Apparently I was in serious danger of having my geek card revoked, because early Friday morning I hopped a train for San Diego and spent a day at Comic-Con International for the very first time.
"This is the Comic-Con Express," came the announcement over the station PA system as the train pulled in. You didn't have to tell me. I could have figured it out just from the little girl in the Supergirl outfit in the seat right behind mine.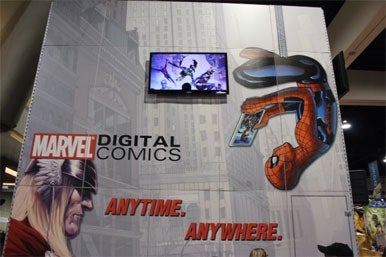 After plunging into the pulsating throng of humanity that is the incredibly over-full San Diego convention center and obtaining my press pass, I managed to make my way to a session about how the digital revolution is affecting comic retailers. (Yes, faithful reader, the reason I made the trip to Comic-Con this year was to see just how the iPad and similar devices are affecting this industry.)
As you might expect, there's a lot of concern among comic-book retailers about a future in which comics come as digital downloads and not bundles of paper sold in their retail stores. This is an industry grappling with potentially gigantic changes that may be forced on it by technological advances, and as someone who works in both the journalism and technology fields, I get the feeling that I've seen some version of this same slow-motion train wreck before.
First, the good news: The appearance of the Marvel Comics app as one of the most prominent apps available when the iPad launched in early April gave the entire industry some time in the spotlight. Clearly everyone in the comic-publishing industry thinks that digital comics have the potential to broaden their market. If you look at the list of top-selling digital comics, it's quite different than the top comics sold in specialty stores, and is dominated by familiar heroes and brand names, including movie tie-ins.
"These people are not your core comic-book buyers," said David Steinberger of Comixology, the company behind both Marvel and DC's iPad apps. Instead, Steinberger said during the panel on digital comics, these are the sorts of people who went and saw Kick-Ass in the movie theater and then were interested in seeing the original comic on which it was based.
But the comics industry seems convinced (or at least quite hopeful) that the coming digital comic revolution, in which devices such as the iPad eliminate the need for reading printed media, will end up driving readers into comic-book stores in search for the good stuff—on paper.
"We'll do the drug dealer stuff," said DC sales and marketing vice president John Rood, suggesting that digital comics serve as a way to get people hooked, especially via free samples. DC has been doing a lot of experimenting with freebies, including a 10-page sample of the re-launched version of "Wonder Woman," and Rood said that the company was seeing six times as many free comic downloads as paid downloads.
"[Comic shops] are cultural centers," Steinberger told the audience, populated mostly by comic retailers. "People who are involved with [shops] want to be involved… but other people don't know the stores are even there." Comixology's apps include a store-finder database that points readers at brick-and-mortar locations where they can buy comics in the flesh.
So can printed comics thrive in the iPad era? Steinberger suggested they could, likening them to boutique vinyl record stores. I'm not so sure. I recall people in the music industry talking in much the same tone about how record stores would always thrive because people wanted to go and hang out there, but the last time I checked, my local record store was being turned into a Trader Joe's. And bookstores face the same challenge, as readers turn both to e-books and to buying direct from Amazon. The survivors are likely to be retail chains or independent stores with a very good sense of what it takes to create a pleasant, appealing retail environment—pretty much the antithesis of at least one class of comic-book store.
The iPad is just the first of a series of devices that will provide a reading experience that's able to match anything print had to offer. That simple fact is going to cause enormous disruption in the comics industry. There's a good chance that the graphic-publishing industry as a whole will be the better for it, in the end, since the potential audience for their material could grow dramatically. I can't be the only kid who used to dig through the spinner racks at the local supermarket, started to visit a comic shop regularly as a pre-teen, and then drifted away from the medium entirely in high school and college. I'm buying comics monthly again, but I'm doing it on my iPad.
The fact is, today the iPad (and iPhones, and Sony PSPs, and the like) are imperfect reading devices. Double-page spreads don't look good. The huge-format Absolute editions offered by DC are gorgeously crafted hardcover books, and I own more than my share of hardcover comic collections.
But technology's march is relentless. It's not outlandish to think that in six months, Apple might release an iPad with an ultra-high-resolution Retina display. Add in a flow of Android-based tablets with large screens, and maybe even color-capable Amazon Kindles.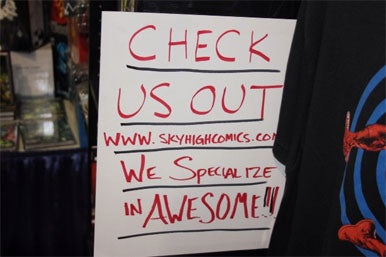 That's why, as comics-industry executives talk on stage about using digital comics to hook people into buying print, I get the distinct impression that they're just trying not to spook the comic retailers who are responsible for a huge percentage of their revenues. Clever ideas like offering the buyers of print editions a digital copy of the work to take with them will only go so far. The future of this industry is digital, and the publishers know it.
The big question is, can the industry walk a careful line, expanding digital comics while not utterly decimating the money it makes from print retailers? Already every comic that's published is scanned and posted on pirate sites within hours of release. It's very much a situation analogous to what the music industry faced during the Napster era. Meanwhile, the legitimate means of buying comics digitally are hopelessly out of date, offering up ancient issues rather than the latest and greatest. Publishers fail to properly bundle up stories and market them more effectively toward the an audience that isn't aware that Amazing Spider-Man #542-545 encompass the complete "One More Day" story arc. Most people who want their comics digitally aren't going to be satisfied by a free 10-page teaser and an exhortation to visit their local comic-book store.
In the end, prodded by Apple, the music industry finally embraced downloads. Consumers got the digital convenience they sought, and it's generally been a success—for Apple, for consumers, for music companies. And for my local Trader Joe's, which gets to expand into the space where I used to buy CDs by the handful.