If you love to paint or draw, Layers—Pro Edition for iPad is worth a serious look. The $6 app from Gotow.net ranks right up there with other top painting apps for the iPad like Brushes or Sketchbook Pro. It's also a wonderful iPad adaptation of Gotow.net's iPhone version of Layers.
When you first open up the Pro version of Layers, you'll find yourself in the gallery where all your paintings are stored. The app gives you the option to create a new painting, continue where you left of on your last painting, or browse the online gallery full of other Layers users paintings.
The online gallery is nearly worth the price of admission itself. It's chock full of thousands of amazing paintings that you can replay, stroke by stroke, to see how they were created. You can even adjust replay speeds from real-time to medium or fast; you can also switch to a layer view that displays all the separate layers as the artist paints away. Being able to see how artists created their masterpiece can be a great learning experience.
In your own private gallery, you can view replays of your paintings in the same way. You can also upload them to the online gallery for other Layers users to enjoy.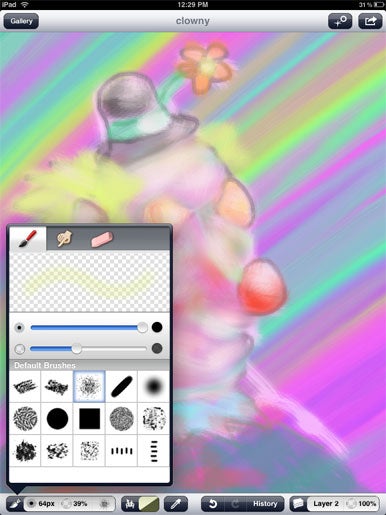 Layers Pro comes with 15 different brushes for you to paint with. In the brushes pallet, you can adjust the brush's size and opacity. And here's where I ran into my only real complaint about Layers Pro: The largest brush setting is only about as big as your fingertip. While you can certainly paint just fine with brushes no bigger than that, I found myself wanting a bigger brush on more than one occasion.
The brushes pallet also reveals an eraser tool and a smudge tool. Both of these tools can use any of the brushes as well as the size and opacity settings. The smudge tool in Layers Pro is easily my favorite capability; it works well and has a very natural look, as it blends and smears the colors on the canvas.
An oft-requested feature for iOS painting apps is the ability to offset the brush tip from your finger so you can better see each stroke. Layers Pro delivers on this option, letting you offset the brush tip by up to 80 pixels in any direction.
Layers Pro features a nice color wheel for picking your colors. Next to the color wheel, a slider lets you adjust how light or dark your color will be. Four color swatches below the wheel show the current color selection as well as the last three you used. There's also an eyedropper tool that you can activate by tapping and holding a finger down on the screen to select colors from your painting.
Layers Pro support up to 30 undos in case you make a mistake (or several). A history pallet shows the last 30 actions you made. You can scroll through this history pallet and instantly go back to any point, saving you from having to tap the undo button repeatedly. Unlike many other painting apps, Layers Pro saves your undo history, so the next time you open up a painting, you can still undo the last 30 actions.
As its name would suggest, the app offers support for multiple layers—up to five at a time. You can adjust each layer's opacity as well as fill it with the current color, rotate it, reposition it, or merge it with the layer beneath it. You can rearrange the order of your layers by dragging them higher or lower through the layer stack.
When it comes time to save or share your paintings, you can pick from a few options. You can save your creation to the iPad's photo library, copy it to the clipboard, or duplicate the entire painting in your gallery. There's also the option to e-mail it as a JPEG or even as a PDF complete with all its layers intact.
Layers Pro for iPad has some really nice features and sharing options. The interface is designed very well, and it is one of the fastest painting apps out there. No matter how fast I painted, the app never lagged at all.
Gotow.net offers a $2 version called Layers—Standard Edition for iPad, which the developer says is aimed at casual artists. You're limited to five brushes and three layers; you've also got fewer manipulation tools to use. The standard edition doesn't support the Email as PDF option either, but it's a good way to get a feel for the app.
[Tim Mercer is a technology enthusiast, graphic designer, and blogger, whose blog, digital-artist-toolbox.com, offers free resources to the digital artist and graphic designer.]