Last week, VoteBundle brought some democracy and reality TV to the increasingly crowded Mac software bundle scene. Mac users were presented with 20 apps and asked to vote for which ones should go in the eventual bundle. Voting has ended, and a bundle of ten apps is now on sale.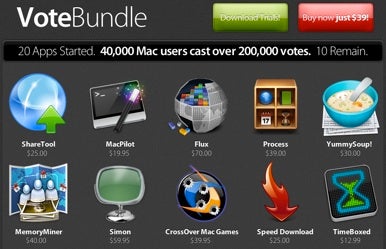 The VoteBundle features project managers, Web design and site monitoring tools, and even a gaming utility. Overall, nearly $362 of apps can be had for $39, and the VoteBundle site says that 40,000 Mac users cast over 200,000 votes to craft this bundle, which includes: ShareTool, MacPilot, Flux, Process, YummySoup!, MemoryMiner, Simon, Crossover Mac Games, Speed Download, and TimeBoxed.
One bonus app, Dream Capture, can be had if you're willing to log into the VoteBundle site and pseudo-spam your friends with a promotional message. But if you were planning on telling everyone about the killer Mac software deal you just found anyway, it's not a bad deal.
The VoteBundle is on sale for nearly two weeks, and a convenient "Download Trials" button lets you grab test drive copies of every app in one fell click.