iPhoto '09 can extend its organizational powers well beyond your desktop into the realm of online albums. From within iPhoto, you can manage your Flickr, Facebook, and MobileMe albums with the same ease that you've enjoyed on your Mac.
For example, with Flickr you can organize and rearrange groups of pictures, add captions, and adjust your images in iPhoto, and then have all of those changes reflected in your online Flickr gallery. What's even better, this is a two-way connection. If you decide to change the title of an image while viewing it in Flickr, that information is sent back to your iPhoto library on your Mac. In a sense, this means that you have remote access to iPhoto, enabling you to tap into your library on the go via networked devices such as the iPad.
The dream of entering data once and have it updated everywhere is possible for your images too. Let's take a closer look at how the process works.
iPhoto to Flickr
Flickr is one of the most popular tools for online photo sharing. You can sign up for free, then share your images with the world, select friends, or keep them private.
To make the iPhoto connection, first sign up for a Flickr account. Armed with your name and password, select a handful of pictures in iPhoto, and go to Share -> Flickr, or click on the Flickr icon in the lower right hand corner of iPhoto. The first time through, iPhoto will ask for your account information and have you set the approval in Flickr for two-way communication.
Before you can start uploading, you have to set a few parameters. The first option dictates who can view your photos on Flickr: Only You, Your Friends, Your Family, Your Friends and Family, or Anyone. These settings correspond to the permissions you set in Flickr for your other pictures.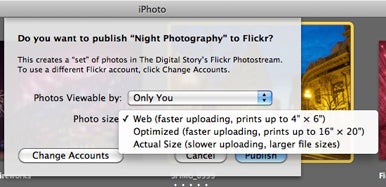 Next you'll pick a default photo size: Web, Optimized, or Actual Size. iPhoto gives you some clues to the resolution of these settings by saying things such as "prints up to 4×6". In my testing with images from a Canon 5D Mark II, the actual resolutions uploaded to Flickr using the iPhoto presets were Web at 1024-by-683, Optimized at 3054-by-2036, and Actual Size at actual size.
Once you've made your selections, press the Publish button to send your images to Flickr. iPhoto will add a Flickr album icon to its Library pane. So now you've made the connection and have a corresponding set of images in iPhoto and in Flickr.
Fine-tune your Flickr experience
Once you've connected iPhoto and Flickr, there are a number of ways to refine your workflow. Start with the basics and add captions and keywords to your pictures in iPhoto before uploading. Flickr will include your caption and convert your Keywords to Tags.
If you're into mapping your images, Places in iPhoto adds geotags to your pictures, and Flickr has the ability to share this information. To make this work, you have to enable two settings. In iPhoto, go to iPhoto -> Preferences -> Web and check the box next to "Include location information for published photos." Then in Flickr, go to: You -> Your Account -> Privacy & Permissions -> Import EXIF location data. Now, the location data will be exported from iPhoto and travel to Flickr.
You don't need to create a new album for each upload. It's possible to add images to your existing Flickr albums in iPhoto. If you want to include more pictures in a set of Flickr photos, just drag the image in iPhoto to the Flickr album in the Library pane. If iPhoto doesn't update your set automatically, you can nudge it by right-clicking on the album and choosing Check Now from the popup menu.
Use iPhoto's powerful image editing tools to adjust how your pictures look online. If you don't like the way a photo is looking in the web browser, edit it in iPhoto and update it using the Check Now command.
Not every change needs to start in iPhoto. You can change the photo title, caption, and keywords in Flickr, and iPhoto will download those changes and update your iPhoto library. Just remember that Tags in Flickr equal Keywords in iPhoto. This ability means that you can continue to work on your iPhoto library from your iPhone, iPad, or any other network device that allows you to make changes to your Flickr images. (Many iPad and iPhone apps, such as FlickStackr, provide an attractive interface for displaying and updating your iPhoto to Flickr pictures.)
Yes, Facebook too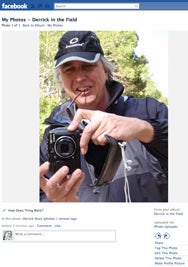 If you prefer Facebook to Flickr for online image sharing, iPhoto can also accommodate you. The procedure is similar to what you do for a Flickr account, except that you don't have as many options.
You control who has permission to view your photos on Facebook via the popup menu that appears in iPhoto when you select an image and choose Share -> Facebook. Your options are Everyone, Friends of Friends, or Only Friends. And just like with Flickr, once the images have been uploaded to Facebook, a new album appears in your iPhoto Library under a Facebook header.
There is one neat trick in Facebook that Flickr users miss out on that takes advantage of Face Recognition technologies in iPhoto. If an iPhoto-shared image is tagged with a person's name on Facebook, iPhoto will download that information and use it in Faces. You can force iPhoto to update its Faces database by right-clicking an image and choose Detect Missing Faces from the pop-up menu.
And just like Flickr, if you want to add more pictures to the Facebook album, you can drag and drop them to the appropriate synchronized album in the iPhoto library pane.
MobileMe makes it easy
Apple's online service, MobileMe, integrates smoothly with iPhoto (and has for quite some time). You can add or remove images from the online gallery via the application, just like you can with Flickr and Facebook. But you have a few additional options, such as the ability to create password-protected galleries, which is handy if you have clients previewing photos online. MobileMe also provides controls for user downloading. So if you don't want viewers to copy your pictures to their hard drives, you can change the setting accordingly. And finally, you can let others add their photos to a MobileMe gallery you create—great for family reunions where multiple people want to contribute.
By clicking on the Advanced button in the MobileMe dialog box, you reveal even more features. You can, for example, hide albums so they don't appear at all on your MobileMe gallery page. And if you do allow downloading of images by viewers, you can set the quality level for those images: Optimized, for images that can be printed up to 16-by20-inches, or Actual Size.
This extra level of control does come at a price, however, MobileMe subscriptions run $99 a year. The good news is you get lots of other features well beyond iPhoto gallery management.
Take Your Pick

Serious photographers are usually attracted to MobileMe and Flickr's comprehensive set of tools for online sharing and managing. But having the option to post on Facebook directly from iPhoto makes the task of showing your photos to your circle of friends and family even easier for snapshooters. And the best part is, if you use iPhoto, you don't have to choose. You can manage all online photo sharing services from the comfort of your iPhoto library.
[Senior Contributor Derrick Story teaches iPhoto on Lynda.com and runs a virtual camera club at thedigitalstory.com.]