The iPad may get up to 10 hours of battery on a single charge, but for some people, that still isn't enough. Sanho, maker of AC-outlet-repelling external batteries for the Mac, iPod, and iPad, has released the new HyperMac Stand for iPad with a built-in battery.
Designed much like the double-sided stand that Incase includes in its Travel Kit Plus for iPad, the HyperMac Stand has a rectangular shape with two rubberized "soft-touch" slots for propping up your iPad. One slot is angled at 18 degrees primarily for typing, while the other is more friendly to presentations and movie-watching at 45 degrees. For bonus points, Sanho says the stand even fits an iPad while in Apple's iPad Case, so it can probably accommodate similar third-party cases that are about as slim.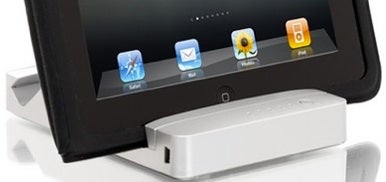 Whichever slot you use, though, the HyperMac Stand will charge your iPad with a built-in 11000mAh, 40Wh battery to give you up to 160 percent more on-the-go time—that's a whopping 16 extra hours on top of the iPad's built-in 10 hour battery.
The HyperMac Stand also supports pass-through charging and syncing. You can plug the stand into a wall and charge both the iPad and the stand's built-in battery at the same time, or plug it into a Mac and sync while charging. The stand also features its own battery meter so you know how much time it has left.
HyperMac says that the HyperMac Stand is pocketable at 6-by-4.2-by-1.1 inches, but I suppose that depends on your definition of a "pocket." Still, at $130, this sounds like a compact, power-full iPad stand if you need to get more than 24 hours out of your iPad.