If you've even entertained the notion of installing a task manager app on your iPhone, you probably already need one. The iPhone has seen an explosion in the number of task manager applications, and TapMeDo Pro, by developer Massimo Panonzini, is another noteworthy addition to the category.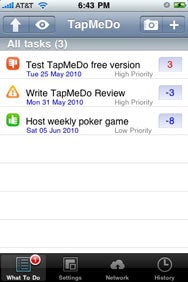 TapMeDoPro allows you to enter tasks quickly right from the main screen. You can enter as little or as much information as you like. You can add your task to an existing category or create a new one. Adding tasks is a quick and easy process.
As with any task manager app, setting deadlines to manage your tasks is an important part of TapMeDo Pro. While you can enter a task quickly without setting a due date, you'll likely opt for due dates on most tasks, especially given the way due dates are integrated into this app.
TapMeDoPro allows you to set due dates and warning dates (reminders) for every task by selecting dates from a large scroll wheel. TapMeDoPro measures due dates by the number of days ahead of the current date. For example, if I'm setting a task on May 28 that is due on September 28, TapMeDoPro informs me that I have 123 days before the task is due. Reminders work the same way. By default, TapMeDo Pro assigns due dates that are five days ahead and reminder dates that are two days ahead. You can change these default dates from the app's options screen.
It's important to note that you can only enter due dates via these scroll wheels. There's no way to type in a date, as is the case with other iPhone task manager apps, such as Remember the Milk. While TapMeDoPro includes buttons to skip ahead by 30 days at a time, it can be frustrating to have no other way to enter a due date.
TapMeDo Pro supports push notifications, which, along with the reminder date and customizable badge counts, make it easy to stay on top of your tasks. You can set TapMeDo Pro to display the number of current tasks or just the number of overdue tasks; you can also opt to disable the badge count entirely. TapMeDo Pro also maintains a history of every task you've ever added in case you delete a task by accident.
TapMeDoPro also includes a "network sync" function. The name is a bit misleading, though. Network sync ensures the tasks stored on your iPhone remain synced with the cloud server that manages the push notification system. According to TapMeDo's developer, some apps lose their ability to publish push notifications if tasks are created while the iPhone is in airplane mode, for example. TapMeDoPro's sync function ensures that push notifications are always available for each task in your queue. The developer says a true sync feature—"ShareMeDo"—is coming soon.
A free version—named simply TapMeDo—is also available. It offers all of the features of its paid sibling, including push notifications, but with one important caveat: the app only supports a maximum of seven tasks at a time. You are also prohibited from adding new task categories in the free version. Apart from these two differences, TapMeDo and TapMeDoPro are identical. The developer also is working on an iPad version.
TapMeDo Pro is an easy-to-use, customizable task manager. While it's slightly unpolished in places, the app provides a worthwhile option for anyone looking to get organized.
[Macworld contributor Brendan Wilhide covers the sports industry and social media on Sportsin140.com.]