Gemini Multi-Shot Animator is a fun app that allows you to take a series of photos and combine them into an animated GIF. The $2 offering from Daisuke Nogami relies on a simple concept that provides just enough options to keep the app fresh and entertaining.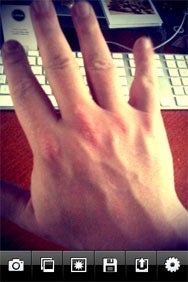 When you first launch Gemini, you choose the basic settings for your creation. The app's Settings menu lets you select how many images (from two to 16) will be combined, as well as the interval in between shots (from 0.1 seconds to 3.0 seconds). Unless you're holding the camera still and taking photos of a moving subject (for a stop-motion video effect), you'll want to give yourself enough time between shots. I got the best results when I allowed for at least one second in between shutter releases. Anything less, and the results became blurry as the camera moved.
After you've picked your settings, tap the camera button to launch an in-app camera. Gemini's interface at this point looks very similar to the default iPhone Camera app, except here, you'll see a small blue status bar in the lower right corner. As soon as you tap the shutter release button, the photos begin being taken automatically—so be ready.
The status bar will guide you by displaying how far along you are in your chosen number of frames. After you capture the last image in the series, prepare for a brief pause as Gemini combines the images. You'll then get to look at the final animated image. From there, you can tap the filter button and add effects such as Vintage, Black & White, and Cross-Processed to give the animation some extra flavor. ( Here's an example.) After you're happy with the final image, you can save it, e-mail it, or post it to Twitter.
My biggest complaint with Gemini—and other apps like it—is that you can't snap photos at your own pace or choose existing images from the Photos app. Inevitably, the app misses shots because the camera is moving, causing blurriness. With some practice, though, you can overcome this limitation and produce good results.
Gemini's ability to combine images into short, animated clips can be very entertaining. If nothing else, the app provides a different take on the regular images that you capture with your iPhone.
[Macworld contributor Beau Colburn lives in Boston and posts iPhone photos on his site Snap different.]