There is much that separates Gameloft's Zombie Infection HD from other zombie-themed mobile games. First of all, unusual for an iOS game, it has a fairly robust storyline, complete with tough-looking hero and scantily-clad heroine/journalist. There are also various ambiguously-evil characters and, of course, plenty of zombies ready to devour your brain (and other assorted body parts).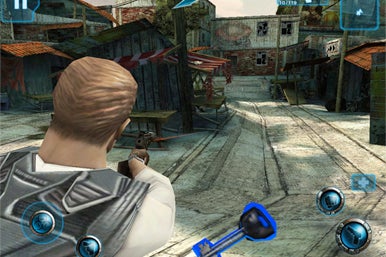 From a graphical perspective, the game's 3-D world pushes the iPad's rendering abilities to the edge without ever going overboard, resulting in a smooth, rich visual environment in which playing is a pleasure. The zombie animation, in particular, is full of exquisitely nasty detail and provides endless opportunities for dismemberment and target practice (hint: headshots are worth more points). If you suffer from a weak stomach, you should probably be aware of the fact that Zombie Infection doesn't shy away from gore—thereby making it unsuitable for the youngest children (the game is rated 12+ at the App Store).
The third-person shooter controls are easy to understand and master, although there are some pathfinding issues and strange level design choices—characters can jump down a ten foot ditch with no hesitation, but, for some reason, they often can't seem to go down a ten-inch step, forcing you to go all the way around. The game has a fairly small selection of weapons with depressingly low power; the only exception to this rule is the occasional machine gun, whose scarcity throughout the game makes its use against a horde of enemies that literally fall apart before your eyes that much more fun.
The sound quality is disappointingly uneven. Once again, the zombies shine with a great variety of grunts, unintelligible words and strange incantations. You never get tired of them—unlike the music, which is the kind of repetitive ambient-orchestra riff that turns stale faster than French bread. The voice acting is, for the most part, entirely forgettable; in particular, some scenes seem to have been spliced together from two completely different games, one in which the characters always shout at each other, and the other in which people always speak in a low, menacing monotone regardless of whether they are threatening you with untold pain and suffering, or just reading you the time of day.
The real Achille's heel of the game, however, is the terrible script, riddled with clichés and inhabited by characters so paper-thin you could see right through them. It almost feels as though the designers of the game secretly hoped that players would gloss over the script and capture only the keywords "zombie," "kill" and "vengeance." Admittedly, that kind of mindless entertainment may be all you need—but those who like shooters with an engrossing backstory and compelling characters will be definitely disappointed.
[Marco Tabini is a frequent contributor to Macworld.]