Apple announced a new Mac Pro on Tuesday that features up to 12 CPU cores for up to a 50 percent performance improvement over its predecessor.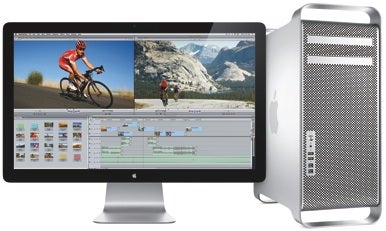 "In terms of the processor, we're adding Intel's latest generation Xeon technology, the Westmere generation of products," said David Moody, Apple vice president of worldwide Mac hardware marketing, referring to the Intel code name for the processor line. The new chips feature a 32-nanometer process that can fit up to six cores on a single die.
The new Mac Pro features a pair of either quad-core or six-core Intel Xeon processors, with up to a 12MB L3 cache and speeds ranging from 2.66 GHz to 3.33 GHz. "The combination of the cache and the integrated memory controller provides outstanding memory bandwidth and improved memory latency," Moody told Macworld.
The new Mac Pro also features Turbo Boost, which allows it to dynamically boost CPU speeds up to 3.6 GHz, while Hyper-Threading allows for the creation of up to 24 virtual cores.
A first for the Mac Pro line, customers can add a 512GB solid-state drive into one or all four of the drive bays. According to Moody, customers can fill all four drive bays with solid-state drives to create a striped RAID with up to twice the performance of traditional hard drives.
The ATI Radeon HD 5770 with 1GB of GDDR5 memory is now standard, though customers can substitute the faster ATI Radeon HD 5870, also with 1GB of GDDR5 memory. Both of these cards feature dual Mini DisplayPorts and one dual-link DVI port, allowing you to connect two LED Cinema Displays without the need for a second video card.
The new Mac Pros will be available in August. While the quad-core model starts at $2499, Apple puts great emphasis on the customize-to-order options, saying that most Mac Pro customers look to configure the machine to their own particular needs. "We played a game here this morning," Apple's Moody told Macworld. "We found that there's 1.3 billion possible configurations of the Mac Pro. You can really go and build the configuration you want."
Apple offers two base configurations. The $2499 model features a single four-core 2.8GHz processor, 3GB of DDR3 memory, ATI Radeon HD 5770 graphics, and a 1TB hard drive. The $3499 model comes with two four-core 2.4GHz chips and more L3 cache (12MB to 8MB in the $2499 configuration); it also ships with 6GB of RAM, ATI Radeon HD 5770 graphics, and a 1TB hard drive. Users can customize the processor, graphics, memory, and storage options.
Updated at 6:54 a.m. PT to include comments from Apple. Updated at 9:23 a.m. PT to include more info on the base configurations for the Mac Pro.
Mac Pro Xeon/2.4GHz (8 Core)