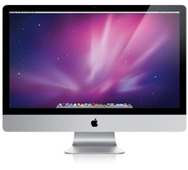 Apple on Tuesday beefed up its consumer desktop line by unveiling iMacs with a new processor architecture and faster graphics. Macworld spoke with Apple vice president of worldwide Mac hardware marketing, David Moody, who said that the company was keeping the same aluminum and glass design that consumers loved and "focusing on the inside of the product."
Chief among the new features of the iMac is the use of Intel's newer Core architecture across the line. In the previous iteration, the lower-end iMac models used Intel Core 2 Duo chips; now, all the iMacs sport a variety of Core i3, i5, and i7 chips.
As with its predecessor, the new iMac comes in two models: 21.5-inch and a 27-inch. The 21.5-inch model has three processor options: a 3.06GHz Intel Core i3, a 3.2GHz Intel Core i3, and a 3.6GHz Intel Core i5. All three processors sport a 4MB level 3 cache and support Hyper-Threading and Turbo Boost. On the 27-inch, you can choose from four different processors: the same 3.2GHz or 3.6GHz chips as the 21.5-inch or a 2.8Ghz Quad-Core Intel Core i5 with a 8MB level 3 cache that supports Turbo Boost or a 2.93Ghz Quad-Core Intel Core i7 with a 8MB level 3 cache that supports Hyper-Threading and Turbo Boost.
Apple has also now shifted to discrete graphics across the board, provided by ATI. That's notable especially in the entry-level model. Previously, that shipped with the integrated Nvidia GeForce 9400M. Apple's Moody said that the new discrete graphics in the entry-level iMac performed about three times faster than the previous integrated graphics.
The 21.5-inch model offers either an ATI Radeon HD 4670 with 256MB of GDDR3 memory or a ATI Radeon HD 5670 with 512MB of GDDR3 memory. The 27-inch model with the dual core processor comes with an ATI Radeon HD 5670 with 512MB of GDDR3 memory while the quad-core 27-inch model comes with an ATI Radeon 5750 with 1GB of GDDR5 memory.
All models come with one FireWire 800 port capable of powering devices up to 7 watts, four USB 2.0 ports, AirPort Extreme 802.11n Wi-Fi that's compatible with 802.11a/b/g, Bluetooth 2.1 + EDR, a slot-loading 8x SuperDrive, and a 10/100/1000BASE-T Gigabit Ethernet connector. According to Apple, the new SDXC card slot can now support newer memory card capacities, from 64GB to 2TB in size.
They also sport built-in stereo speakers, headphone/optical audio output minijack, an audio line-in/optical digital audio input minijack, and a built-in microphone. For video, a Mini DisplayPort output supports DVI, VGA, and dual-link DVI; as previously, the 27-inch models can also use the DisplayPort as an input port. As always, there's an iSight camera embedded in the top of the bezel.
By default, all models ship with 4GB of 1333MHz DDR3 SDRAM in two 2GB SO-DIMM modules, an increase of memory speed over the previous generation's 1066MHz rating. There are a total of four SO-DIMM slots in the machine, which support up to 16GB of RAM. The 21.5-inch 3.06GHz model ships with a 7200-rpm 500GB SATA hard drive while the 21-inch 3.2GHz model, 27-inch 3.2Ghz model, and quad-core 27-inch 2.8GHz model all ship with a 1TB 7200 rpm SATA hard drive. All models also offer a 2TB 7200-rpm SATA hard drive as an option.
In addition, the buyers of the 27-inch models can also choose a 256GB solid-state drive—a first on the iMac. Apple's Moody said that the solid-state drive is available either as a replacement for the iMac's drive or in addition to the standard hard drive.
Apple also touted the environmental characteristics of its desktop line. "Building environmentally sound products is important to us as a company," said Moody. As with the company's portable line, the iMacs are free of toxic chemicals like mercury, PVC, and BFRs. Thanks to the LED-backlit displays—which Moody noted were among the very few large format displays that use LEDs—the iMacs also are free of arsenic. And, as always, Apple focused on using highly recyclable materials such as aluminum and glass. The new iMacs have earned EPEAT Gold ratings for their environmental friendliness, says Apple, and also meet the EPA's Energy Star 5.0 qualification.
In addition to the keyboard and Magic Mouse that ship with every iMac, customers can now also opt to add Apple's multitouch Bluetooth Magic Trackpad as a customize-to-order option.
The 21.5-inch 3.06Ghz model starts at $1,199, with the 3.2GHz 21.5-inch model at $1,499. The 27-inch 3.2GHz will set you back $1,699 and the 27-inch 2.8GHz quad-core model runs for $1,999. All models are shipping now from the Apple Store.
Updated 6:45PT to add comments from Apple.
27-inch Core i5 iMac/2.8GHz (quad-core)
Price When Reviewed:
$1629.95
21.5-inch Core i3 iMac/3.2GHz
27-inch Core i3 iMac/3.2GHz