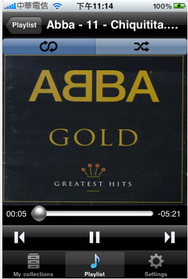 With the advent of the smartphones, streaming media has reached new potential. No longer do you have to worry about whether or not you copied that newest album to your iPod: as long as you've got a wireless connection, you can probably use an app to play it back right from your home computer.
iPhone app Cloud Music attempts to make this streaming even easier. Instead of having to set up software on your home computer to serve up your media, Cloud Music can stream right from a free Google Docs account. Earlier this year, Google added the ability to upload files of any type to your Google Docs account—that includes music files too.
Cloud Music can stream MP3, MP4, and WAV audio files. If you bundle a bunch of tracks into a folder with a cover image, you'll even see that image as you're listening. The app can even cache files up to a user-defined amount, presumably for offline playback (it's difficult to tell exactly what the features are, since much of Cloud Music's documentation appears to be in Japanese).
The app also says you'll be able to play back music shared to you by your friends, presumably through the use of a Google Docs shared folder. Either way, you'll have to upload the files from your computer; Cloud Music doesn't handle that part.
Cloud Music is $2 and requires iPhone or iPod touch running iOS 3.1.3 or later and a Google Docs account.
[via Gizmodo]