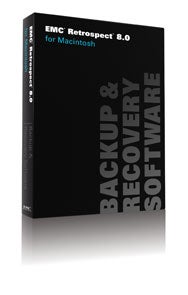 [Editor's note: Retrospect is currently having some Website issues, but you can download the final version of Retrospect 8.2 directly from this link.]
It feels weird to write about Retrospect without "Dantz" in front of it. But Roxio bought this backup and recovery software for small-to-medium businesses from EMC Corp. in May, and Tuesday brought its first major update since the purchase.
Roxio Retrospect 8.2's network performance has been boosted by up to 300 percent, and new 64-bit support allows for backing up volumes containing tens of millions of files.
The new version also brings a much-requested feature: restoring from backups created by Retrospect 6. An apparent architectural change in more recent versions forced users to maintain separate versions of Retrospect 7 or 8, or simply not upgrade altogether. Retrospect 8.2 lays the problem to rest.
The new version has also gained some interface updates that streamline Retrospect's workflow and management tasks. These enhancements are all in addition to Retrospect 8.0's headlining features which include multiple, simultaneous backup and restore operations; certified AES-256 backup encryption; backup-to-disk features that support local and network systems, as well as transferring to tape or other portable media; advanced custom reporting and e-mail notifications; and advanced networking abilities with support for multiple network interfaces and wake-on-LAN.
Retrospect 8.2 is a free update for existing owners of version 8.x. New customers can download a trial from Retrospect.com, and the system requirements for management licenses, backup licenses, and client licenses are listed at Roxio's site.
[Updated at 12:28PM pacific to include a direct download link.]