Laptops are everywhere these days: it's hard to go to a library or coffee shop without tripping over half a dozen power cables. We all take precautions for security when we're out and about, but what about where your laptop lives? Kensington on Tuesday announced its new Laptop Locking Station and optional Tether Kit, to help make sure that your laptop is always right where you left it: on your desk.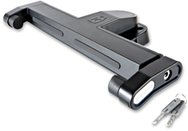 The $80 Laptop Locking Station, which attaches directly to a desk via several screws, is a bit like a vise: you put your laptop down, close the side arm and the laptop's locked in place; to release your laptop, just insert the key in the high-security disk lock. The all-steel backbone and deflector plates on the Locking Station can hold up to attempts to cut, drill, or pry the laptop free. While the contraption keeps your portable safe and secure, you can still rotate, slide, and tilt it to access the ports or adjust the viewing angle. The Locking Station works with laptop sizes from 13.3-inch to 17-inch.
If you're not necessarily about to drill into your desk, you can instead pick up the optional $30 Tether Kit, which provides a baseplate into which you can snap the Locking Station. The base plate itself attaches to your desk via a reinforced security cable.
The Laptop Locking Station and Tether Kit are both available from pre-order from Kensington's own site and will soon be available at retail partners. If you're interested, you can also check out a video of both the Locking Station and the Tether Kit in action.
Tether Kit for Laptop Locking Station