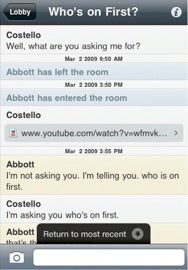 Campfire is a Web-based chat service from 37signals targeted at small-to-medium businesses. Ember is an iPhone client for Campfire built by Overcommitted—or rather, it was. On Tuesday, 37signals announced that it purchased Ember from Overcommitted, renamed it, and gave it an appealing new price of nothing.
For the past year, Ember has provided iPhone and iPod touch users on-the-go access to most of Campfire's features. In a blog post, 37signals says that Ember "caught our eye," so the company decided to purchase it from Overcommitted. 37signals also said that it "made a few changes," though it doesn't provide details.
Besides the obvious renaming to Campfire for iPhone and fresh new version 1.0 badge, I spied a few changes in my brief hands-on. It looks like 37signals added some support for iOS 4's Fast App Switching and high-res graphics for the iPhone 4's retina display—this means that you can switch back to the exact place you left off in Campfire for iPhone, but it will not continue to receive new chat messages while you're in another app.
There is also a new Leave button in the individual room options screen, as well as a full list of recently shared files below the room member list.
If you've never used Campfire, here's a quick primer: as a Web-based chat service, it offers features like platform and (general) browser agnosticism, multiple rooms, an option to take rooms public (great for customer service or other public interaction), file sharing, viewing of embedded media, and more.
Perhaps one of Campfire's most appealing features is persistent transcripts. If you log out of Campfire on your work computer and log back in on your notebook at the coffee shop, any conversations that happened while you were in transit are displayed as if you never left. You can even search transcripts from the previous day, week, month—you get the idea.
This is 37signals's third iOS app, after the minimalistic iPad sketching app, called Draft, that it also worked (in part) with Campfire; and Highrise, a client for the Web-based contact manager and CRM tool of the same name.
While Ember used to cost $10, 37signals is offering Campfire for iPhone 1.0 for free. Unfortunately, per Apple's stringent App Store policies, Ember customers shouldn't expect to get their money back. It is available now in the App Store and requires iOS 3.1.3 or later, and is not a universal application.
[Updated at 10:50AM pacific to reflect that this is actually 37signal's third iPhone app.]