Gamers who've been waiting for the next version of StarCraft to hit the Mac probably would agree with the observation of the blue-cad, cigar-chomping space marine who appears in a teaser trailer for the real-time strategy game: "Hell, it's about time." On Tuesday, Blizzard Entertainment released StarCraft II: Wings of Liberty to stores worldwide. The highly anticipated real-time strategy game has been teased and previewed for months—if not years—but it's now available for both the Mac and Windows platforms.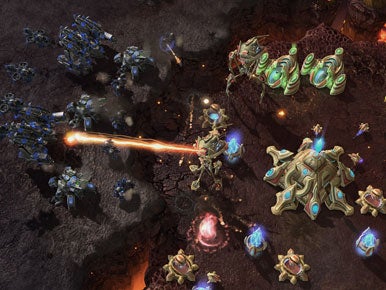 StarCraft is considered one of the most successful video games of all time, with more than 11 million copies sold worldwide. Renown for its balanced multiplayer, StarCraft is a favorite tournament game of professional gamers despite its comparatively dated graphics.
StarCraft II: Wings of Liberty is the first chapter in a three-part sci-fi saga furthering the epic struggle between the Protoss, Terrans, and Zerg. Wings of Liberty will further the Terran campaign while the expansions "Heart of the Swarm" and "Legacy of the Void" will focus on the Zerg and Protoss respectively.
StarCraft II picks up four years after the events of Brood War, the expansion to 1998's StarCraft. Jim Raynor, the embittered Terran hero from the first game, has now been reduced to mercenary work for a company seeking mysterious alien artifacts. Kerrigan, the self-styled "Queen of Blades," has not been seen in four years but the Zerg's dormancy can't last long. Meanwhile, the splintered Protoss are in the midst of a tribal civil war with Artanis, trying to unite the factions before its too late.
StarCraft II's arrival is nearly as epic as its storyline. A Mac version of the game was first announced more than three years ago. Originally targeted for release in 2009, StarCraft II saw its launch delayed last year. At the time, Blizzard blamed longer-than-expected development times for upgrading its Battle.net online multiplayer service.
Blizzard always seems to have the Midas touch when it comes to gaming. Its Warcraft franchise has transformed from a popular fantasy real-time strategy game series into the most popular massively multiplayer online game ever. Meanwhile, Blizzard's Diablo franchise remains one of the most beloved dungeon-crawler series of all time. You can expect Starcraft II to be another notch in Blizzard's belt and likely to set new sales records this week.
StarCraft II costs $60. The game runs on Intel-based Macs running Mac OS X 10.5.8 or later. For graphics, you'll need at least an Nvidia GeForce 8600M GT or ATI Radeon X1600.