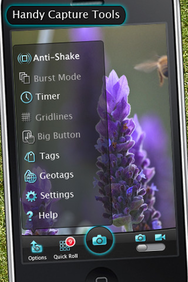 Looking to take advantage of all the snazzy new camera features of your iPhone 4? Look no further than the most recent update to Global Delight's Camera Plus Pro.
Version 2.5 has the iPhone 4 and iOS 4 dead in its sights. Besides being able to capture photos and video with both of the iPhone 4's cameras, Camera Plus Pro can also use the iPhone 4's LED flash for both shooting pictures and recording video. In addition, the app can do real-time zoom and video filters for both the front and back cameras, edit and preview photos in real time on the iPhone 4, and even lets you choose from three resolution settings for the iPhone 4.
In addition, a number of bugs were squashed in this update, including a problem with pixelated photos and videos and problems with accidental clipping of the sides.
Global Delight is currently running a 10 Days of Summer promotion that sees the price of Camera Plus Pro dropped by 50 percent to just $1 from its normal $2 price. The company is also running a contest, the grand prize for which is a Leica D Lux 4 camera valued at $999.
The contest, which begins on Tuesday, involves a series of open-ended missions, with themes such as "Shoes in Danger." Contestants are asked to send in a picture that relates to the theme. The submissions will be judged by Global Delight on a number of factors, and each mission winner will get a $50 iTunes gift card. The best overall submission of all the missions, as voted by a poll on the company's blog, will take home the Leica, with the runner up snagging a $100 iTunes gift card.
Camera Plus Pro 2.5 requires an iPhone or iPod touch running iOS 3.0 or later.