Clickgamer's Modern Conflict is much simpler than it looks. At first glance, the scene is rife with numbers, machines, and pathways that wind around deserts and mountains. While the war-themed components of Modern Conflict (tanks, music, the "mission" given out before each level) play some role in the game, ultimately, the aim is simple: to acquire control of all the enemy bases.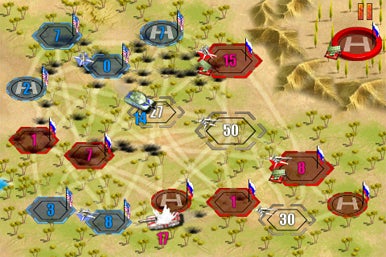 The screen is made up of a mountainous or desert battleground consisting of base camps. Camps are marked blue or red, depending on which team controls them, and are hexagonal or circular, indicating whether a base is for tanks or helicopters, respectively. Personally, I opt out of the sound effects and suspenseful background music that are offered, but it's a nice touch that adds a definite ambience to the game.
To start, each team has a handful of bases already claimed. The remaining bases (anywhere from three or four to ten or twenty, depending on the level) are neutral. By clicking first on one of your own bases and then on a neutral or opposing team's base, you can send troops in for invasion. However, this must be done strategically. Each base has a number, which indicates the amount of tanks or helicopters at that specific base. In transferring tanks to another base, one tap will send half and a double tap moves the entire number of tanks. Additionally, all non-neutral bases spawn tanks. Thus, by tapping and waiting for bases to reproduce, a war is born.
There is an array of other rules and tricks to be aware of and the lengthy hands-on tutorial is the best way to learn them. For players like myself (who are not so familiar with the military jargon thrown around in Modern Conflict), the interactive tutorial is incredibly helpful. The practice levels within the tutorial introduce each individual element of the game as well as the special advantages that are awarded at random in the thick of battle.
While playing Modern Conflict, every time I seemed just about to lose a battle, I would be sent mysterious aide, such as the "Last Hope Reinforcement" bonus. Now, I've never actually been in a military battle of any sort, but I'm quite certain that that's not very realistic. Yet, this is one of the reasons that Modern Conflict grew on me: it feels like the creators want you to win, but without making the game too easy. Help only arrived during one of my hours of need per level, so needless to say, there were points where it became clear that I was such a terrible commander that even the nice folks at Clickgamer couldn't help me.
Overall, the more I play this game, the more I enjoy it. I'm particularly fond of the moment before the game starts where the I'm gets to take the lay of the land and actually devise a strategy before charging in. Don't be fooled, there is a definite need for strategy in Modern Conflict. I could tell many a war story about failed attacks where I thought all I needed was random, sporadic tapping to win.
[Stephanie Kent is an editorial intern for Macworld.]