Extensions fans, rejoice! On Wednesday, Apple released Safari 5.0.1, which officially enables Safari Extensions by default, and introduced the Safari Extensions Gallery. The gallery, located on a page on Apple's site, allows users to search for extensions, browse by category, and install them with just one click if the user is running Safari 5.0.1.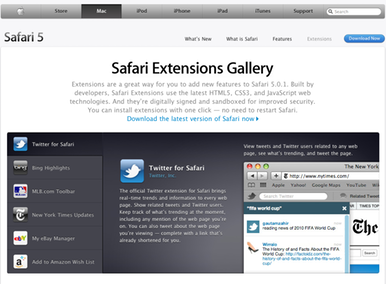 Apple began soliciting submissions for the Extensions Gallery earlier this month. Based on Web technologies like HTML, JavaScript, and CSS, Extensions allow developers to bring new features and functionality to Apple's Web browser. Safari Extensions were introduced in Safari 5, released early last month, but the feature was turned off by default, requiring users to choose to enable Extensions.
Apple's gallery exists to showcase top Extensions in a variety of categories, such as social networking, productivity, and shopping, but third-party developers can continue to develop and distribute Extensions via their own Websites. However, Extensions downloaded from third-party Websites must be installed via the Finder, rather than by the one-click method that Apple's gallery utilizes. Regardless of the source, all Extensions are required to be signed with a digital certificate and run in a sandboxed fashion that insures the user's security.
Competing browsers such as Firefox and Chrome have had their own extensions features for some time, so Safari—which was initially released in 2003—is comparatively late to the party. But that doesn't mean Apple isn't throwing its weight firmly behind Safari Extensions, as evidenced by the top-notch partners it's lined up, such as The New York Times, Major League Baseball, Amazon, and Twitter, whose Safari Extension is the first of its kind for the social networking site.
Besides enabling Extensions, Safari 5.0.1 includes a number of other bug fixes and features enhancements, such as more accurate top hit results in the address field, better stability when using the Safari Reader keyboard shortcut, a fix for an issue that prevent Safari from launching on Leopard systems with network home directories, a fix for a problem where DNS prefetching requests could overtax some routers, and resolution for a problem where VoiceOver would misidentify elements of Web pages.
In addition, Apple also included a handful of fixes related to specific sites, such as better stabliity when scrolling through MobileMe Webmail, improved multipage articles from Rolling Stone viewed in Safari Reader, a fix for an issue on 32-bit systems involving Google Wave and certain other Websites using JavaScript encryption, overlapping Flash content on Facebook and Crate and Barrel's Website, and a problem printing boarding passes from American Airlines's Website.
Finally, the update also includes a number of security patches, among them a fix for maliciously crafted RSS feeds, a handful of patchs for maliciously crafted Websites that could allow arbitrary code execution, and a fix for the AutoFill hack that was disclosed last week.
Safari 5.0.1 requires Mac OS X 10.5.8, 10.6.2, or 10.6.3; on the Windows side, you'll need Windows XP, Vista, or Windows 7. The update is available from Apple's support download site or via Software Update. Apple also released Safari 4.1.1, which brings many of the same fixes and security patches to users on Mac OS X 10.4.11.
Updated at 6:30PT with more information on Safari 5.0.1 and details on Extensions.