Monsoon Multimedia wants to change the way you watch your TV. The company is now accepting pre-orders for the Vulkano, its next-generation live-TV placeshifting, timeshifting, and streaming device for TV, smartphones, and other media devices—what it calls a combo of a TiVo, Roku, and Slingbox. The feature-packed Vulkano will let you record, watch, and control your live TV channels from anywhere in the world on your iPhone, Mac, or iPad.
Monsoon claims that the Vulkano is as easy to set up as a video game system. Just connect it to your TV and your set-top box's analog outputs, and it will begin streaming your live TV from your living room to your iPhone, iPad, Mac, or other device over Wi-Fi or 3G using H.264 compression. Download the free Vulkano app to your iPhone or iPad, and you'll be able to watch and control any of your home TV channels through a wired or Wi-Fi connection—Monsoon says 3G support for the app will be coming in August.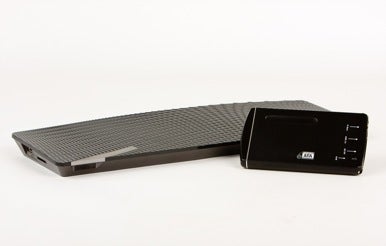 You can schedule recordings through an included electronic program guide (EPG) and transfer and watch these recordings at any time on your TV, computer, or portable device. Just specify your DVR format choice in the Vulkano mobile app or on the Vulkano itself, and your shows will be recorded in that format onto the Vulkano's flash memory or hard drive.
You can change TV channels from your mobile device or Mac via the Vulkano's IR blaster, and Vulkano also supports Universal Plug n Play (UPnP), which will let you stream video and photos from your computers, smartphones, and cameras wirelessly to your TV without having to deal with cables.
The Vulkano also lets you stream YouTube videos to your TV, and Monsoon plans on offering free service upgrades such as Google TV, Yahoo Widgets, Netflix, and Hulu in the near future.
The Vulkano ships in starting on August 10 and you can pre-ordered now for $259 for a 16GB model and $379 for the Pro model, which comes with a 1TB hard drive. According to Monsoon, other models are also in the works.