If you casually surf the Internet for chuckles, you've probably come across at least one Cracked.com article. Born out of the now defunct Cracked magazine, the site's often hilarious 'Top 10' posts frequently make their way to the top of content aggregator sites like Digg or Reddit—and now they're making their way to your iPad. Cracked.com for iPad is a free app that provides easy-to-navigate access to Cracked's content, whenever and wherever you want it.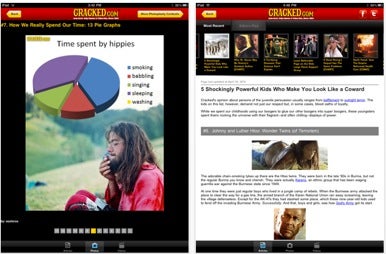 The Cracked developers worked to differentiate the iPad app from the Website, adding humor to the app's interface and styling it to give the experience of a Cracked 'editor's perspective.' For example, the app's landing page is a blueprint of the Cracked break room, complete with vending machines and a full bar.
The app features a fast-loading feed of Cracked.com's latest content, an iPad-exclusive editor's picks section, and iPad-optimized videos. It also takes advantage of the iPad's large touch screen, letting you flip through pages of archived photos and stories as you would a book.
Cracked.com for iPad is a free download and requires iOS 3.2 or later.