Panasonic showed for the first time on Wednesday a prototype 3D lens for its interchangable lens cameras that use the Lumix G Micro System lens mount. The lens should be available by the end of 2010.
The lens actually contains two small lenses side by side, which each transmit light to the camera's image sensor. The image coming through each lens will be from a slightly different viewpoint and it's that difference that will allow resulting images to exhibit the illusion of depth and appear to be in three dimensions.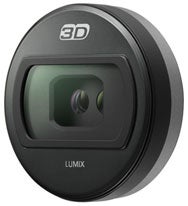 It will be compatible with Lumix cameras that use the G Micro System mount, including the DMC-GH1, DMC-GF1, DMC-G2, and DMC-G10 Micro Four Thirds cameras. Panasonic didn't provide any more details about pricing for the lens or regional availability.
Panasonic presented a prototype of the lens at a Tokyo news conference where it also announced its first 3D camcorders.
The Lumix lens appears to be around a centimeter deep and the two lenses are contained within the diameter of the lens mount.
Several rival camera makers have already launched their first 3D photography systems. FujiFilm has a camera with dual lenses and dual image sensors while Sony uses a single lens and image sensor but requires the photographer to swing the camera in an arc to capture a 3D panorama.
Panasonic said advantages of its lens will be easier 3D photography, and images that show no distortion between left and right images, even for moving objects.
The 3D images can be viewed on a 3D television.