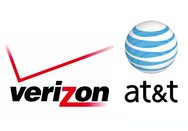 The iPhone was as much of a revolution to carrier networks as it was to consumers—it was the first phone that gave users a reason to wirelessly gobble data, and that was before "there's an app for that" became a colloquialism. According to an upcoming study, though, Verizon smartphones may have taken the data consumption crown.
Validas, a wireless bill service provider for consumers, businesses, and government agencies, recently finished an analysis of more than 20,000 consumer wireless bills collected between January and May 2010. According to its study, due to be published September 1, Verizon Wireless smartphones consumed an average of 421MB per month versus the iPhone's 338MB per month. Validas compares general "smartphones" from Verizon Wireless to just AT&T's iPhone, though the majority of Verizon Wireless's data consumption is probably coming from the growth of Android devices.
Strangely, Validas intentionally excluded RIM's BlackBerry from its pool of Verizon Wireless "smartphones," despite the fact that it is still one of the U.S.'s most popular smartphones. Validas explained that, "due to data compression techniques, [the BlackBerry does] not follow similar data consumption patterns to those of iPhones and other Smartphones." One could certainly argue that compressed data still counts as data, but regardless, this omission may have skewed Validas's findings.
BlackBerry exclusion aside, Validas revealed a number of other interesting statistics in a press release. For example, there are slightly more Verizon Wireless smartphone owners who use less than 200MB per month (a bar that AT&T set when it switched to tiered data pricing in June) than iPhone owners—54 percent versus 52 percent, respectively. Interestingly, a handful of both Verizon Wireless smartphone users and AT&T iPhone users consume "no data" over their networks in a given month—3.4 percent and 2.9 percent, respectively. Perhaps these users are lucky enough to live around truly ubiquitous Wi-Fi.
While iPhone users edged out Verizon Wireless smartphone users for consuming more than 200MB each month (48 and 46 percent, respectively), Verizon Wireless smartphone users hit the network the hardest when it comes to "power user" territory. Nearly twice as many Verizon Wireless smartphone users (or 11 percent) consume 500MB-1GB each month, and more than twice as many (four percent) use more than 2GB per month.
Validas shares even more interesting tidbits from its study in a blog post, especially in terms of sheer year-over-year growth in wireless data usage between 2009 and 2010 across all the major U.S. networks. Verizon lead the pack in terms of growth with a mean increase of 48.2MB to 147.2MB used per customer per month, as 42.9 percent of its customers opted into new data plans versus 33.4 percent a year ago. T-Mobile followed with a data usage increase from 44.6MB to 120.6MB, though it had virtually no growth in the number of new data plans. Sprint was in third place with an actual decrease in mean data usage of 166.5MB to 133.4MB, even though new customers opting into data plans increased from 36.9 percent to 49.9 percent.
AT&T came out on top with the greatest number of customers with data plans at 71.2 percent, which was up from 58.4 percent a year ago. Mean data usage per user is also up from 111.9MB to 149.6MB.
Validas did not present any explanation for the significant growth in wireless data usage from Verizon Wireless or other network smartphone users. One possible reason: the fact that Android allowed users to run data-intensive third-party apps in the background—such as Pandora or turn-by-turn directions—while iOS did not during the time of Validas's study. The restrictions that Apple had to impose on some types of features due to AT&T's struggling network may be another cause. Apple also pitches the iPhone to a broad audience which may contain a higher ratio of members who simply do not want to consume as much data while on-the-go. Android, by comparison, got to the market more quickly for power users who have been waiting to live on streaming music, portable 4G hotspots, and a mobile OS that can be more easily tinkered with.
However, since the iPhone only recently began allowing third-party apps to run in the background with Apple's release of iOS 4, it would be interesting to see Validas's study performed again in another six to 12 months. It would also be interesting to see this study done by including all smartphones.
Updated at 11:59am PT with analysis of the fact that Validas intentionally excluded RIM's BlackBerry from its definition of Verizon Wireless "smartphones."