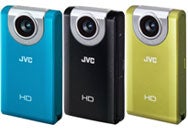 JVC on Tuesday unveiled a pair of new pocket camcorders. Both the new Picsio GC-FM2 and the Picsio GC-WP10 record video at 1920 by 1080 progressive resolution at 30 frames per second.
Both Picsio camcorders feature a 3-inch touchscreen. All the controls for recording, playback, zoom, and more are used by touching on-screen icons.
Videos are formatted and MPEG-4 AVC/N.264 files and saved to SD cards. Still photos can also be taken.
Both camcorders have 4X digital zoom and each are equipped with a fixed focus lens. Both also have an HDMI output port and an AV output port.
The GC-FM2 has a built-in USB connector. The GC-WP10 is waterproof up to 10 feet.
JVC says that video from both camcorders can be easily brought into iTunes or iMovie.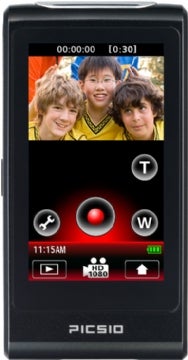 The Picsio GC-FM2 is $180 and available in black, blue, or yellow. The Picsio GC-WP10 is $200. Both camcorders will be available in September.