Ecco the Dolphin is a classic Sega Genesis game from 1992 that received critical acclaim at the time for its unique gameplay and impressive graphics; for a while, it even rivaled Sonic the Hedgehog in terms of popularity. While many a gamer can fondly recall playing Ecco back in the Genesis's heyday, Sega's faithful iPhone port of the game serves more as a reminder of why we don't break out our old 16-bit systems more often.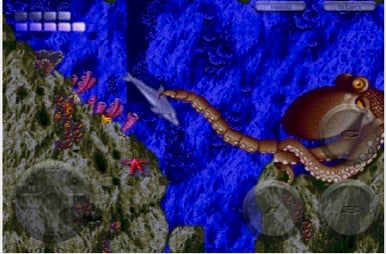 For the uninitiated, Ecco is an underwater side scroller in which you navigate the title character through a series of underwater caves and puzzles while battling a variety of enemies and communicating with other creatures via sonar. In the iPhone version, you control the game with a virtual Sega Genesis controller that is superimposed over the screen.
Graphically, the port looks very much, if not exactly like the original Genesis game—that is to say, it looks like a game that was released 18 years ago. Those looking for a dead-on accurate port of the original shouldn't be disappointed, but look elsewhere if you want flashy, 21st century graphics. The game runs smoothly and I didn't experience a single bug during gameplay. Unfortunately, Ecco bears the hallmarks of some of the worst aspects of 90's sidescrollers: clumsy controls, tedious level design, and ridiculously high difficulty.
The tiny, touch screen D-pad Sega provides might have worked well enough for land-based games like Sonic the Hedgehog 2, but Ecco's underwater setting requires a level of 360-degree finesse that is hard achieve with such a small touch-screen D-pad. While trying to maneuver Ecco through some tricky passages, I often found my thumb sliding out of range of the D-pad, resulting in Ecco taking damage. While such issues are inherent in a touch-screen display, Sega could have improved this issue by providing a larger—or better yet, adjustable sized—virtual D-pad.
But the touch-screen D-pad isn't completely to blame for the game's control issues: Ecco himself is rather difficult to handle. His controls feel clumsy and imprecise, and he lacks the level of intelligent navigation we've come to expect in modern games. For instance, it's easy to get Ecco stuck on corners while making turns—a more modern game character would easily maneuver around such simple obstacles with minimal effort. As a result of Ecco's poor control, it's very difficult to steer him out of harm's way through the game's meandering, maze-like tunnels, which brings me to my next point:
Compared to the modern games we're accustomed to, Ecco is difficult to the point of not being fun. There are so many ways to die, and the game provides such little guidance as to how you're supposed to complete a level, that Ecco goes from entertaining to infuriating in a matter of minutes.
Fortunately, this being a true Sega port, all the original cheat codes work on the iPhone version, so you can simply bypass the more frustrating levels, or give yourself invincibility and other fun powers. After spending ninety minutes trying to beat the second level, this was the only way I could remotely enjoy the game.
Overall, I can't fault Sega for the quality of Ecco the Dolphin as a port, as it is literally the same game you played on the Genesis, and that's what a port should be. However, between the clumsy iPhone controls, and the frustrating nature of the game, I could only recommend Ecco the Dolphin to the most avid fan of the original. Anybody else is in for an underwater world of hurt.
[Macworld contributor David Dahlquist is a friend to all aquatic life.]