If you're like me, you're constantly juggling usernames and passwords for different Websites every day. Luckily for iPhone owners, password manager apps like Trotz Software's Password Caddy help you manage all this data in a clean interface.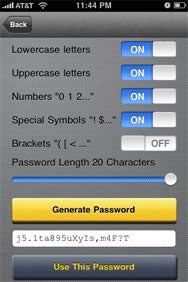 In Password Caddy, you create, edit, and organize passwords and other sensitive data right from your iPhone. Password Caddy organizes that data—with government-level encryption standards—into one of six different categories including Website logins, financial information, and software keys. Adding new accounts is as easy as typing your username, password, and other data into a series of preset fields.
The only way to add data to Password Caddy is via the iPhone app since, unlike the assorted mobile versions of 1Password, Password Caddy does not have a companion application for entering information from the desktop. Still, Trotz Software does have a free companion application that lets you back up your data to a Mac or PC.
Backing up Password Caddy to my MacBook was as easy as installing the Password Caddy Agent Mac program and syncing the entire database between my iPhone and Macbook via Apple's Bonjour technology. The entire process took about 30 seconds. I was able to restore my entire database from the backup in seconds, too.
Password Caddy features a series of slick animations and sound effects through the app. It also includes helpful overlays that explain each screen the first time you use the app, making it easy to navigate. These little touches make the relatively mundane task of securing your data actually fun.
As fun as it is to use, though, Password Caddy has its share of frustrations. You can't create your own templates, for starters, and while you can create secure notes, doing so is a tedious process, as the option is buried several screens deep.
Password manager applications are all about security and convenience. Password Caddy handles both well. The app isn't perfect, but it remains a good choice for anyone interesting in protecting their mobile data.
[Macworld contributor Brendan Wilhide covers the sports industry and social media on Sportsin140.com.]