Tap Tap Revenge was a major hit on the iPhone because it combined addictive, rhythm-based gameplay with popular songs. While a number of rhythm-based touchscreen games have popped up since Tap Tap Revenge's success, Zentertain's Tapic aims to take the format to the next level by letting you instantly play along to any of your iPod's tracks.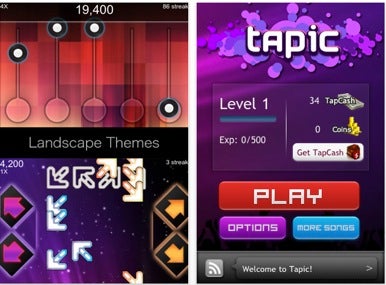 Tapic's gameplay is similar to Tap Tap Revenge: a bunch of objects float toward you on several paths to the beat of a song, and you must rhythmically tap their respective paths the moment they make it to the end. This style of gameplay has been used since Dance Dance Revolution hit arcades in the late 1990's, but what sets Tapic apart from the competition is its ability to process and turn songs from your own music collection into game levels.
Tapic lets you navigate through your iPod library, where you can select a song you'd like to play in the game. Once you select a song, the game takes a few seconds to generate the tap notes, and then you're on your way, tapping along to your favorite tunes. You can play in portrait or landscape modes, and there are various game modes and themes to keep the experience fresh.
Tapic costs $1 and runs on an iPhone or iPod touch, and requires iOS 4.