At a Glance
Expert's Rating
Pros
Magsafe connector to charge Mac portables
Built-in speakers and iSight
Cons
Limited adjustment options
No height or pivot adjustment
Glossy screen is prone to glare
Apple doesn't officially support using the LED Cinema Display on anything but Mini DisplayPort
Our Verdict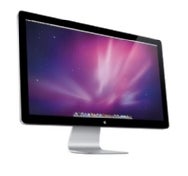 Does a 24-inch display seem too cramped? Does a 30-inch seem too big? If so, Apple's monitor moves this week should fit you just right. Here's how Apple's latest Cinema Display reshuffles the company's lineup, along with a look at where the new product fits into the LCD market.
On Tuesday, Apple overhauled its display lineup, introducing the new 27-inch LED Cinema Display. The arrival of the new $999 monitor means the end of the line for Apple's 24- and 30-inch models; once Apple sells the last of its supplies, those LCDs, priced at $799 and $1799, are no more.
The 24-inch LED Cinema Display arrived a little less than two years ago, so its departure from Apple's lineup may seem a bit premature. It's possible, though, that Apple believes that one size fits all—that enough customers are interested in a 27-inch display to make it worth the company's while to make that its lone size. The end of the line for the 30-inch HD Cinema Display is a little bit easier to figure out—after all, it's been six years since Apple first took the wraps off of that massive model.
What to expect
The new 27-inch display keeps many of the features introduced with the 24-inch model, including an IPS display with LED backlight, 3-port USB hub, and a single connection cable with MagSafe charger, Mini DisplayPort connector, and USB 2.0 plug. The new display also features an integrated iSight camera with microphone and built-in speakers.
The 27-inch LED Cinema Display has a 16:9 aspect ratio and 2560 by 1440 pixel resolution—40 percent higher resolution than the 24-inch LED Cinema display and the same horizontal resolution as the 30-inch display it replaces. The 30-inch HD Cinema Display had a 16:10 aspect ratio, and offers 160 more vertical pixels.
What it's up against
So what kind of competition will the new LED Cinema Display be facing when it arrives on retail shelves this September? Dell offers its UltraSharp U2711, a 27-inch IPS display with the same 2560 by 1440 resolution as Apple's new model, and a price tag of $1099—$100 more than what Apple will charge for the 27-inch LED Cinema Display. The Dell model claims a higher 6 ms gray to gray response time than the 12 ms cited in Apple's specifications, though Apple doesn't specify if it's specifying gray to gray response or a different spec.
NEC's 27-inch, 2560 by 1440 display, the PA271W-BK, costs $1399 and boasts high-end technologies for critical color applications, like a 14-bit 3D lookup table for calibration and tools for maintaining accuracy over time. The VG2728wm from Viewsonic and P2770H from Samsung are both 27-inch displays and costs as little as $349, but they offer lower 1920 by 1080 resolution.
None of these competing displays use an LED backlight, which does not require the warm-up period of CCFL backlights used in most monitors.
Look for reviews of the new Apple display in September, as well as the NEC and Dell monitors mentioned here on Macworld shortly.