The iPhone's camera is great for capturing the little moments of your daily life, but its small screen can feel cramped when you're editing or showing off images. The iPad, with its big, vibrant screen, is fantastic for viewing and editing photos, but it lacks the iPhone's built-in camera. By adding the Apple Camera Connection Kit to the mix, you can combine the powers of these two Apple devices by seamlessly moving your photos from your iPhone to the iPad.
Once you connect the two devices by plugging the iPhone's sync cable into the Camera Connection Kit's USB dongle, the iPad will recognize your iPhone just like it would any other camera or memory card, displaying thumbnails in a Camera tab in the Photos app. Tap the images you want to transfer over to the iPad and tap the Import button in the top right corner of the iPad. Then select Import All or Import Selected.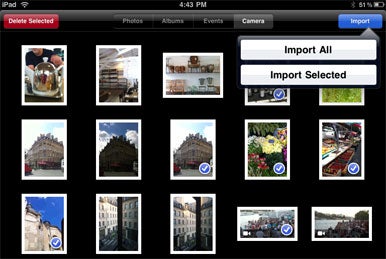 Once the images are on the larger device, you can find them in the iPad's Photos app under the Photos tab, under the Albums tab in the Album called Last Import, or in the Events tab where they are organized by date.
Now you can take advantage of the iPad's photo editing and uploading apps. This workflow can be especially helpful when you're traveling and want to view, edit, and post images quickly while away from your main computer.
Edit your photos
There are a number of popular iPhone photo-editing apps that have been released for the iPad. These apps will give you plenty of ways to edit, tweak, and stylize your photos directly on the iPad. (Tips on how to do common iPhone image edits can be found here.)
CameraBag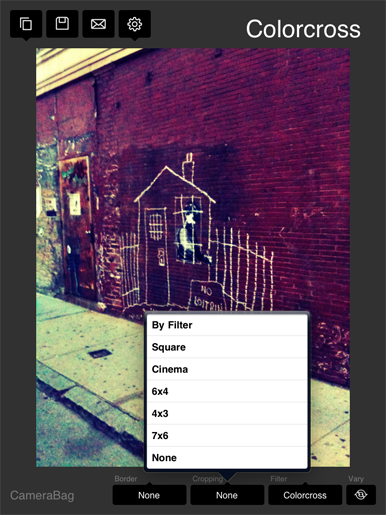 This app's appeal has always been in its retro simplicity, and the iPad version keeps this aesthetic while adding a few helpful new options. CameraBag on the iPad still only allows you to adjust your photo with one preset filter at a time. There are ten filters to choose from that mimic familiar camera types and looks, such as a Holga or Polaroid camera, or a cross-processed print. On the iPhone, you have the option to crop or add a border to your photo based on your chosen filter. These options are either on or off, and each crop size and border is tied to the filter. On the iPad, you can choose to crop and add a border that matches the chosen filter, or you can mix and match. You may want to add the Polaroid-like border to a black and white image, or use a dramatic 16-by-9 Cinema crop on a cross processed photo. My favorite part about CameraBag has always been that, even with limited editing options, the filters are excellent and almost always change the image in a pleasing way. On the iPad this charm is intact, while giving users just enough additional flexibility to add a fun new look if desired.
TiltShift Generator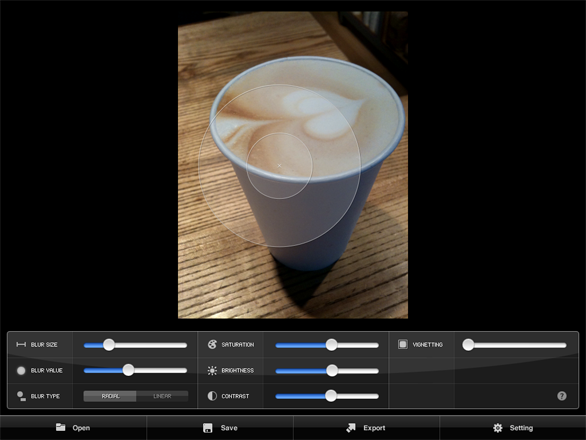 Adding a faux tilt-shift effect to your photos can be a fun way alter the original image. By pinpointing the focus area while blurring out the rest of the image to various degrees, the tilt-shift effect can make some photo subjects look like toy models. It can also give an added sense of dimension to an otherwise flat photo. TiltShift Generator's appeal lies in the way you interact with the image via multi-touch, and this is even better on the iPad's large screen. There are two types of blur you can select: Radial, which, which is a circular point of focus, and Linear, which focuses between two parallel lines. The blur size with each is adjusted with a two-finger pinch, and working with the much larger screen allows you to see the adjustments you are making more clearly. TiltShift Generator also allows you to adjust saturation, contrast, and brightness, and lets you add vignetting. I find I primarily use TiltShift Generator to add the tilt-shifted look to my images and then edit the colors in another app. However, for basic color adjustments the app's adjustment features can provide solid results in these areas as well.
Photogene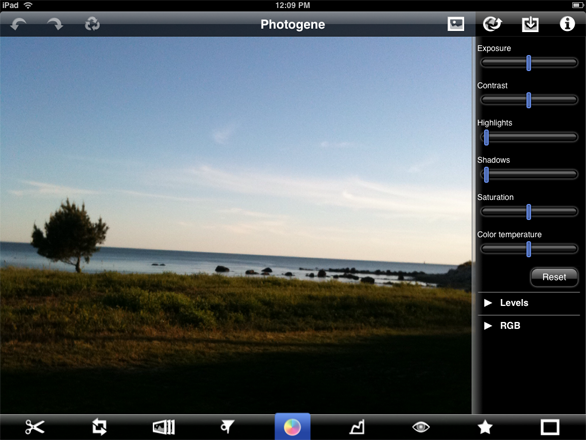 If you're looking for an app that closely mimics the desktop photo editing experience, while adding a number of features familiar in iPhone photo apps, Photogene may be it. This app can do a little bit of everything. You can add preset filters and borders, just as with many popular iPhone apps. You can even add speech bubbles, and clip-art style shapes. If a more desktop-style Aperture or Lightroom experience is what you need, Photogene always you to crop and straighten your images, adjust exposure and levels (it even has a Photoshop-style Curves adjustment), and more. When editing iPhone photos, I like to keep it pretty simple. Getting into sharpening and subtle level adjustments is usually saved for adjusting raw files on my desktop. Even though Photogene has a bit of a kitchen sink feel to it, it's impressive in its range and incredibly handy for occasions when there's a specific adjustment that can't be made in another app.
Share Your Photos
Once you've edited your photo, you probably want to share it. Two of the most popular places to share photos are Flickr and Facebook, and there are a number of options for the iPad. The iPad also makes an excellent final destination for your gallery.
Flickr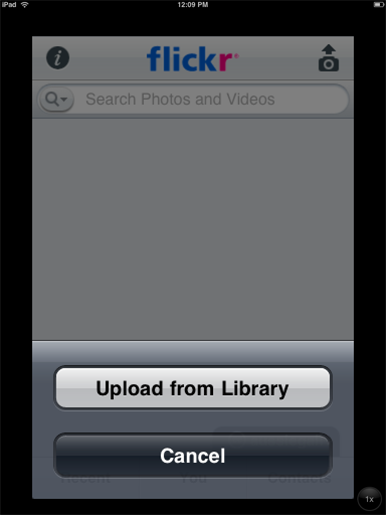 One of the advantages of Flickr is that your photos can show EXIF data (such as location, camera type, etc). As a rule of thumb, when I post photos to Flickr, I try to keep as much EXIF data as possible associated with the image. A downside to editing photos in third-party apps on the iPhone and iPad is that this extra information is stripped from the image (some apps, such as Hipstamatic, have found ways to keep geolocation info with the photo, but only when uploaded from the app itself). The official Flickr app applies some behind-the-scenes magic when uploading, and photos show that they were taken with an iPhone, even if they were edited after the fact. The Flickr app also gives you the option of tagging your current location when you upload. If uploading from the spot that the photo was taken, you can include this location information (if not, it can always be added later on Flickr). If you're a Twitter user, you can also link your Twitter account to Flickr—the app gives you the option to post a Flickr short URL to Twitter when uploading. Currently, there is no iPad version of the Flickr app available, but using the pixel-doubled iPhone version (just hit the 2x button in the lower corner) does the trick.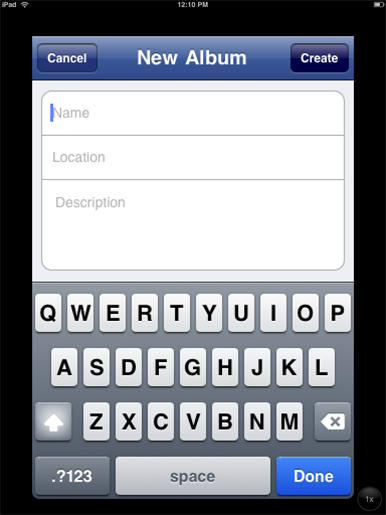 Facebook
Facebook is the most popular photo-sharing site in the world, and like Flickr, the official app is still your best bet for uploading photos to the service. Unfortunately, there isn't an iPad version of the Facebook app yet, but the double-pixeled version of the iPhone app will work fine.
There are a number dedicated apps for Facebook uploading (both iPhone and iPad versions), but the official app gives you much more flexibility. It allows you to post directly to an existing album, or create a new one from within the app. If you want to upload photos while on vacation, for example, you'll appreciate being able to create a new album on the fly.
The iPad itself
Editing, and uploading isn't the only advantage of having your iPhone photos on the iPad—it's a great way to share the images as well. If you've just come back from a day of taking photos at the beach with your family, everyone will much prefer passing around an iPad and looking at its big screen than viewing pictures on the smaller phone screen. The Camera Connection Kit has made it easy to quickly share iPhone photos between devices. Coupled with a variety of helpful apps, it's increasingly easy to extend the possibilities of your iPhone photography.
[Macworld Contributor Beau Colburn lives in Boston and posts iPhone photos on his site Snap different.]