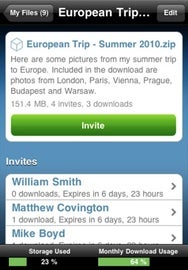 Last week we covered SendStuffNow, a new file sharing service designed for small-to-medium businesses and professionals who need an easier way to share and manage files. One of the main attractions of the service—an iPhone and iPad app—is now available.
SendStuffNow allows you to upload files to the company's "cloud" storage servers, then securely share them with clients, get notified when a client finishes a download, or even revoke access to files.
The company's universal iPhone and iPad app allows users to manage their files and account on-the-go. You can view your files, send sharing invitations, change a file's expiration date, or immediately revoke all privileges and make it private again. You can also upload photos and videos from your iOS device's Photos app.
SendStuffNow's iPhone and iPad app is available now in the App Store for free. SendStuffNow accounts also start at the low price of free, with paid plans that offer more storage, more monthly download bandwidth, and phone support starting at $120 per year.