Creating a Macworld magazine cover is a complicated process. We editors have to come up with topics worthy of the cover, of course. But then it's up to our creative team to get down to details, coming up with the right words and images to grab a potential reader's eye.
The primary job of a print magazine's cover is to grab the attention of a potential buyer on the newsstand. (While we love our print subscribers, our relationship with them is more of the long-term variety, and they judge us by the content of our issues over the course of a year. The cover itself is evidence of a much more shallow relationship: we're trying to snag some of the roughly 30,000 people who don't subscribe to Macworld but pick up an issue on the newsstand from time to time, in airports and Wal-Marts and everywhere in between.)
One of Macworld's greatest weapons in print is our contributing photographer, Peter Belanger. Peter has shot almost every photograph in the pages of the magazine over the past few years. (While we are one of Peter's most faithful clients, he also works for plenty of other big names, including HP and, yes, Apple.) One of the great advantages of print as a medium is that it is so graphically rich, and Peter's photographs are a joy to behold on the pages of our magazine. (The "iPad Test Drive" cover and feature story in our June 2010 issue contain some of my favorite Macworld images ever.)
Peter's contribution to the September 2010 issue's cover is even more remarkable, however: our image of the new iPhone 4 was photographed and post-processed entirely on another iPhone 4. Peter has been tinkering with the idea of shooting a Macworld cover with an iPhone for some time, and with the addition of a high-quality five-megapixel camera on the iPhone 4, the right time had finally arrived.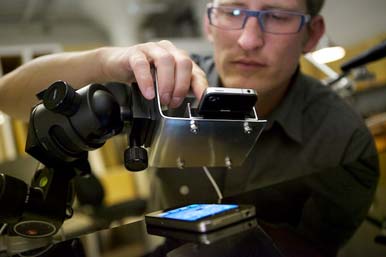 Shooting and editing only on the iPhone had its challenges. Normally Peter shoots Macworld covers with a Phase One P65+ digital camera, which offers 12 times the resolution of the iPhone 4's camera. That meant getting an image as close to the size of the Macworld cover as possible, because any cropping would reduce the resolution of the image even further.
"For the most part, my strategy for photographing the cover didn't change from how I normally would shoot," Peter says in a blog post about the process. "I still had my normal set with lots of lights, flags and stands. I did have to change my light source from strobes to tungsten lights because the iPhone can't sync with studio strobes. Normally I use Photoshop to add in the image on the iPhone screen and clean up dust, scratches and any other imperfections. I wasn't going to have that same control on my iPhone so the photo needs to look really good and as close to final."
"The iPhone's Retina display was truly awesome," he says. "I was really able to see the detail in the photo as I was shooting. It made me wish Apple produced all its monitors this way. The final photo was dust-free and looked great. I was extremely impressed with the detail that the iPhone was able to capture."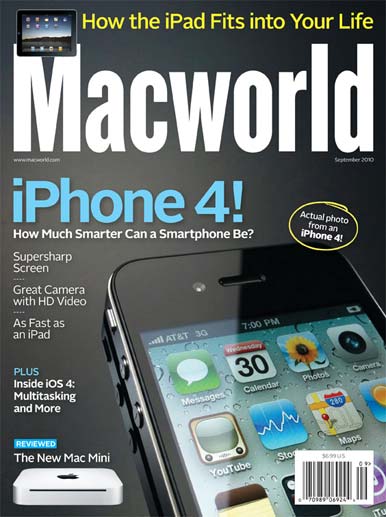 For post production, Peter used two iPhone apps. He used the $3 PhotoForge to remove a slight green cast from the image, and the $1 Resize-Photo to increase the photo from 216 dpi to 290 dpi in order to meet our printing requirements.
Another great thing about Peter is that he's been very open in sharing his process with anyone who's interested in learning. On his blog at peterbelanger.com, he's posted numerous behind-the-scenes photos and videos about his work, including Macworld photo shoots. For everyone who has ever wondered what goes into a Macworld cover photo shoot, Peter posted a time-lapse video of the entire process, including Macworld Art Director Rob Schultz designing the final cover in InDesign.
Is the iPhone 4 ready for intense use as a magazine design tool? Probably not. But its camera is of remarkably high quality. We never would have said that about the camera on the original iPhone, but in the intervening three years Apple and the iPhone have come a long way.
32GB iPhone 4 (GSM, AT&T)
Price When Reviewed:
$599
16GB iPhone 4 (GSM, AT&T)
Price When Reviewed:
$485