Developed by Halfbrick Studios, Fruit Ninja HD is a funny, quick game for the iPad that combines two ideal game qualities: It's easy to learn and fun to master.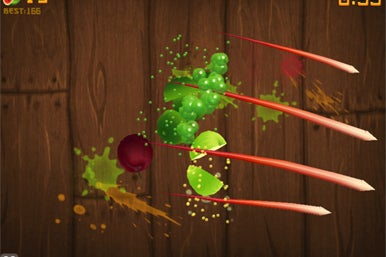 It's hard to overstate the basic simplicity of the game. Fruit appears on the screen, and you're tasked with slicing and slashing it up, ninja-style. And that's pretty much it.
Obviously, Fruit Ninja HD is a casual game, but like all good casual games, strategy indeed plays a role. Over time, increasing quantities of fruit get tossed onto your screen, and you need to ensure that you slice up every piece of produce before it falls from view again. If you let three pieces of fruit escape unscathed, your game is over. Slash through multiple fruits at once to earn bonus points.
As you progress, it won't just be fruit that's tossed into view; bombs appear too—and you'll want to avoid slicing those, since they end your game instantly.
The joy of Fruit Ninja HD, of course, is the slicing. You slice simply by swiping your fingers across the falling fruit, and the game supports slashing with up to eight fingers at a time. That's a lot of potential for fruit carnage, and it works great. Adding to the fun are great visuals, including lots of fruit juice flying with every slice, and a great, Eastern-infused soundtrack.
Of course, there's more than one way to slash a fruit. Like Fruit Ninja for iPhone, the HD edition offers two single-player modes: First, there's the Classic mode where, as I described above, you keep slicing fruit until you hit a bomb or miss too many of them. The alternative is called Zen mode; you get ninety seconds to slice through as many pieces of fruit as you can—with no bombs in site.
New in the iPad version of the game, however, is multiplayer support. You and a friend each crowd around your iPad at opposite ends, competing in either Classic or Zen mode. It's hectic fun, and highly replayable. In fact, in Classic mode, you even get one opportunity to send a bomb onto your opponent's half of the screen, just to be extra vicious.
Whether you're playing alone or with a friend, the Zen mode can at times feel too simple. Ceaseless swiping across the screen will inevitably slice through nearly every fruit tossed into view—though you'll likely miss out on single-swipe combos that award bonus points that way. I find that the Classic mode requires a bit more skill and attention, thanks to those pesky bombs.
Pocket Ninja HD's sense of humor pervades throughout the game. You're even forced to slash through menu options, instead of merely tapping them—a cute touch, though it gets a bit annoying.
As you achieve increasingly high scores and unlock certain bonuses, you'll gain access to Sensei's Swag—a collection of various in-game aesthetic upgrades, like fancier swords and background.
What Pocket Ninja HD lacks in depth, it makes up for in amusing addictiveness. The more I play it, the more I want to play it, which is always a good sign. With the additions of the multiplayer mode and the expanded surface area, the iPad upgrade makes significant improvements over its iPhone counterpart.
[ Lex Friedman isn't really a ninja, or a teenager or mutant either.]