Baby Decks DJ from Async gives you two virtual turntables on your iPad so you can try your hand at DJing without dropping a ton of money on a professional set up. The app comes preloaded with a few beats and some nice scratch records with which to experiment. You can also load your own music into the app's library from your computer over a shared Wi-Fi connection.
To load new tracks into Baby Decks DJ, you just type an address provided by the app into your desktop browser and select the track you would like to upload. Once you've added that music to the app's library, you can play those tracks on the turntables at any time.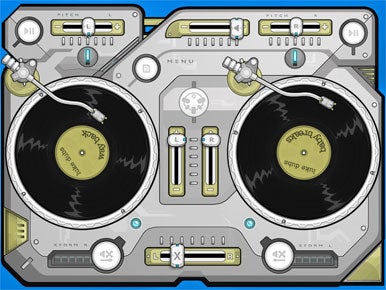 Controls include a master volume slider and individual volume sliders for each turntable as well as a cross fader. Each deck also has a pitch control slider to determine the speed at which each one plays, so you can match up the beats-per-minute when mixing two different beats. Each deck has a play/pause button as well.
You can either tap the center of a record to have it play from the beginning or you can manually place the needle on the record at any point to have it play from that spot in the track. Transformer buttons below each record instantly mute the sound of the other record. Tapping this button quickly while scratching has the same effect of quickly moving the cross fader slider back and forth.
The accuracy and responsiveness of Baby Decks DJ's touch controls impressed me. The torque felt just right, and there was never any latency. The feel of scratching with this app was right on par with a real turntable, minus the tactile feedback.
One thing missing from this app is a cue channel. When mixing two records, it's almost necessary to have a cue channel so you can have the one record playing that everyone hears while you get the other record dialed in on the cue channel. It's really hard to smoothly mix two beats without being able to preview the sound of the second record so you can get things just right. I'm not sure how—or even if—a feature like this could be implemented on the iPad, but it would make it possible to actually DJ a complete live set with just this app.
Another feature that would be a nice addition to Baby Decks DJ is the ability to record a session. As it stands now, the only way to record yourself preforming with Baby Decks DJ is to have the line out going to another recording device. Hopefully, this option will be added in a future update.
At $25, Baby Decks Dj isn't cheap, especially relative to the prices of most App Store offerings. But if you love to scratch and mix records, you should consider giving the app a try. The scratching sounds very realistic and is quite similar to using real turntables. If a future update could add a cue channel, Baby Decks DJ would be just as good at mixing and a reasonable replacement for traditional turntables.
[Tim Mercer is a technology enthusiast, graphic designer, and blogger, whose blog, digital-artist-toolbox.com, offers free resources to the digital artist and graphic designer.]