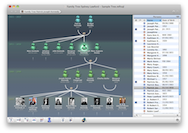 Assembling your family tree has never been easier, thanks to genealogy software like Synium Software's Mac Family Tree. The latest update to the application, version 6, adds several new features and a revamped interface to make it simpler than ever to trace your roots.
Among the features in version 6 are a new family tree editor that lets you visually create your tree, new CoreAnimation-based reports and charts, and free integration with the extensive FamilySearch.org database. You'll also find a new way of handling places, allowing you to merge places and see which events are connected to which locations. In addition, there's now a to-do list feature, a new Web Research tool that allows access to sites like Ellis Island and Ancestry, and much improved performance—including 64-bit support under Mac OS X Snow Leopard.
Mac Family Tree 6 requires Mac OS X 10.5 or 10.6 and runs on both Intel- and PowerPC-based Macs. The full version runs $49, but those updating from older versions can upgrade for just $25. A free demo is also available. Synium also makes a $5 companion iPhone app, MobileFamilyTree.