I have a problem. And that problem is that when I travel for the purposes of pleasure, I can't completely switch off the work-beast within. Even in the most intensely enjoyable moments of my vacations a small voice nags "I'm sure someone would find this useful. Jot it down." Take the past two weeks, for example.
I abandoned ship and went west in search of the elusive Nene—Hawaii's state bird that remains elusive not so much for its canny ability to hide from prying eyes but rather its diminished numbers, largely explained by a pea-sized brain that compels it to walk into traffic. (The locals tell me it's a remarkably dim bird.) During my two weeks away, I learned a thing or two (one of the most important of which is that if you want a particularly potent Mai-Tai, be sure to watch as the bartender makes it). Allow me to detail those things here:
Flip MinoHD + Dry Pak bag + green sea turtles = cowabunga
My family spent a fair amount of time bobbing about the water on the Big Island. To document that time we purchased an inexpensive Snap Sights SS01 underwater camera from the local tourist shop. As far as I know, the thing worked as advertised. I add that element of uncertainty because this is a film camera. Yes, they do so still make them. I haven't developed the film yet—I suppose there are still developers around somewhere—so I can't say for sure how the pictures came out.
After snapping a few shots, my daughter asked to see the pictures.
"You can't. This is a film camera."
Blank stare.
"It records the images to this stuff inside the camera called film. And that film has to be taken somewhere, run through some chemicals, and then a light is projected through the film—which is now called a negative—on to photographic paper. And then you get your pictures. It takes a day or so."
Brief pause.
"That's dumb."
And, of course, for someone who's grown up with a digital camera's instant gratification, it is.
But that set the wheels turning. I wasn't about to dip my DSLR into the drink, but what about the Flip MinoHD pocket camcorder I brought along? A baggie would be risking it, but perhaps the local dive shop has something that would do in a pinch. And sure enough it did in the form of Kwik Tek's $18 Dry Pak Camera Case.
These Dry Paks are designed to protect electronics that may accidentally fall in a body of water rather than for the purposes of intentionally dunking gear. But they're quite good at keeping moisture out (as I found by first loading mine with a paper towel and submerging it in a sink full of water). So I took a chance, filled mine with the Flip camcorder, sealed it, and took it for a swim.
When it came to protecting the camera from moisture, the Dry Pak worked perfectly. I had the Flip under water for a good 30 minutes (even diving down with it) and it stayed dry. However, I had to be careful to squeeze excess air out of the bag before sealing it so that I could press the lens directly to the side of the bag. Without that direct contact, the video was blurry.
After reviewing the footage from the first water foray we learned an important lesson: If you want smooth-looking video, you'll find it difficult to get from a camera with no image stabilization used when you're being tossed around in the surf. To compound the problem, dart the camera from fish to fish.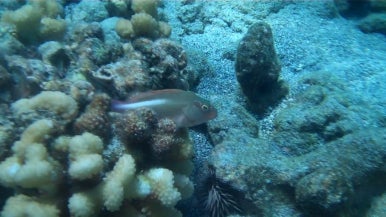 So, on our second trip out, I concentrated on moving the camera smoothly and keeping it pointed at one place. For example, if you come upon a cleaner wrasse, there's a very good chance that the fish will come to it in the hope of getting spruced up. Point the camera in its general direction, and the fish come to you rather than you having to fling the camera about, hoping to catch a fish's fleeting image.
I also got better looking video when I dove down with the camera. That not only takes much of the surge out of the equation, but if you get closer to your subject, you lose some of the overwhelming blue tone you get from all that water between you and the sea life.
The iPhone 4 ain't a half-bad sunset camera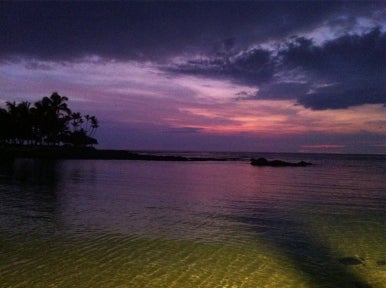 Hawaii is known for its sunsets (and sunset-colored drinks). Much as I like a good sunset (with or without the alleged green flash), I also appreciate the colors that come after the sun has slipped over the horizon. I've captured plenty of these solar after-events with my real camera, but on this trip I attempted this trick with my iPhone 4. And it performed remarkably well. But not because of its accuracy.
Rather, in low light the iPhone 4's camera can produce somewhat grainy and garish results. But let's face it, the more garish a sunset or post-sunset sky is, the better we like it. Mother nature can do Her part, but jack up the color and contrast with a camera not built for these conditions, and you can wind up with some lovely results.
Dropbox is the goods
We've slobbered all over the goodness that is Dropbox—the cloud-based service that provides 2GB of free online storage—that I don't need to go into detail over how it works. Suffice it to say that when you wish to gloat in video form about your days in paradise with friends and family who are stuck at home, the ability to plunk a 200MB movie in your Dropbox and share it as you please is just great.
The iPad is a terrific traveling companion
From where I live, a Hawaii flight is a five-hour trip. Add an impatient child to that trip, and the time can seemingly double or triple. Ah, but add an iPad and it's like you've cut the trip in half. I packed my iPad full of kid-appropriate movies and games and passed it over the second we received approval to use electronic devices on the plane. Between Percy Jackson & The Olympians: The Lightning Thief, Bedtime Stories, and Angry Birds HD, the flight passed quickly.
And once on the island we used Indigo Publications' $5 Reef Fish Hawaii to log the fish we found. As our own Philip Michaels notes, although the app's Favorites lets you keep track of all the fish you've spotted, it would be nice to be able to log fish for each outing or location you've visited. Still, with the additional help of John Hoover's Hawaii's Fishes: A Guide for Snorkelers and Divers , we were able to keep a good record of what we saw.
Good work being done on the Big Island
I've been fortunate enough to get to know Dr. Bill Wiecking, a science/computer instructor at the Big Island's Hawai'i Preparatory Academy. It happens that Dr. Wiecking is in charge of HPA's Energy Lab, a sustainable living/teaching center that may serve as the model for green buildings of the future. And much of it is run using Apple technology. My daughter and I took a tour of the Lab, and I was blown away. In a time when many despair of the planet's future, it's heartening to see this kind of work being done.
Your mother was right
All good things must end, and so it was that we had to return to the mainland. It turned out, however, that our stay was briefly extended thanks to American Airlines unexpectedly tossing us off our flight and rebooking us on a later United flight. This would have been perfectly fine had I known about it. But even though we had booked our reservations through AA's Website and the airline was able to send e-mail alerts about obtaining printable boarding passes online, it's seemingly incapable of sending such alerts when they've pulled the rug out from under you.
So yes, your mother was right to tell you to call ahead to check your reservation. If your mother is particularly tech savvy, she would also suggest that while you're cooling your heels at the airport for six hours you whip out your iPhone and get seat assignments online (because the United counter in Kona doesn't open 'til after brunch).
So many nice people
I had the opportunity to speak to Mac users in both Hilo and Kona on the Big Island and enjoyed myself thoroughly. I have to say that I easily learned as much about living in Hawaii from a technical standpoint (like, the climate can play holy hell with electronics) as they did about iOS 4 and the devices it runs on (which I discussed). I thank everyone I met—both at these sessions and otherwise—for making my trip so memorable.