FutureTap has updated its points of interest finder, Where To?, to embrace the features of iOS 4 and the iPhone 4. Along with an interface overhaul, the app now supports iOS 4's multitasking ability, as well as iPhone 4's high resolution Retina Display.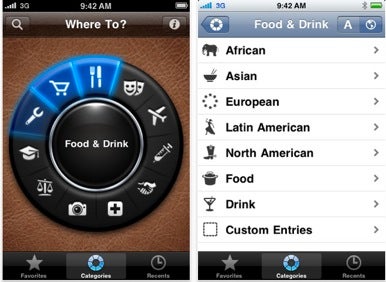 Where To? uses your iPhone's GPS function to let you browse nearby services and amenities. While you can already do this to some extent with the Google Maps app, Where To? enhances the experience with a well-designed interface and added features. Where To's user interface is designed with a luxurious leather styling, which has been better integrated into the app with this update. Optimization for iPhone 4's Retina Display means the app will look nicer, but it's the new multitasking support that should prove most useful.
For instance, if you'd like to make reservations at a restaurant you found through the app, you could make the phone call, and then switch back to exact same screen you were originally at. The same holds true for when you'd like to visit a location's Website—surf away on iPhone's mobile Safari, and then return to Where To? right where you left off.
Where To? has also integrated its SMS location sharing function so that you no longer need to launch the Messages application and now sends HTML messages when you want to share a location via e-mail.
Where To? costs $3, and currently only runs on iOS 4 or higher; the developers are working to make it compatible with iOS 3 once again.