Most of us have set fitness goals at one time or another, but there's always something that seems to keep us from following through on these goals—life, for instance. Perhaps the hardest thing about staying in shape is finding and keeping the motivation to exercise regularly. Poscitech's Fitaide Pro app aims to motivate you to get in shape by harnessing one of the greatest motivational sources—your peers.
Anyone who's ever had a workout partner or personal trainer knows that involving another person in your journey to physical fitness can dramatically improve your motivation. Fitaid Pro lets you virtually partner up with a friend, set a common fitness goal, and follow each other's progress either privately or publicly over Facebook and Twitter. Adding the social media element could boost your motivation even more, since your multitude of online friends will be following your journey.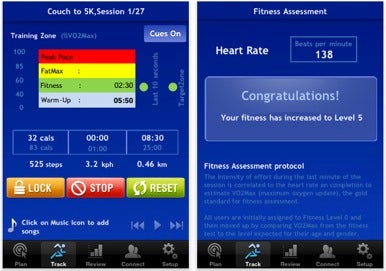 You can create personalized fitness plans based on weight loss goals, sessions per week, and more. You can also challenge friends who use the app to meet fitness goals, such as running a certain distance, and choose whether to make these challenges public or private.
The app harnesses the iPhone's accelerometer to helps track calories, steps, distance, speed or pace. It also provides you with a graphical analysis of your training sessions so you can easily track your progress.
Other motivational features of Fitaide Pro include the ability to train for an event, like a 5k run or marathon, while keeping friends and supporters informed.
Poscitech already offered a fitness app through the App Store called Fitaide, which, as of this writing, no longer appears in the store. Poscitech CEO Siva Raj says the Pro version is "practically a new app" the company created after four months of research and development that took into account what it had learned from the Fitaide launch this past February. The company told Macworld over the weekend that Fitaide users can expect an update in about a week that will offer many of Fitaide Pro's features; the main exception will be fitness plans, which will be available to Fitaide users via an in-app purchase feature. What's more, the older app will be offered as a free download when it returns to the App Store.
Fitaide Pro costs $5 and runs on iOS 3 or later.