There are three things that make a good soccer simulator: the accuracy of the physical environment, the artificial intelligence of the computer-driven opponents and the authenticity of the crowd reactions. In an ideal situation, all three of these aspects come together to deliver a gaming experience that is as close to reality as it can be—albiet without putting on cleated shoes and descending on a grass field.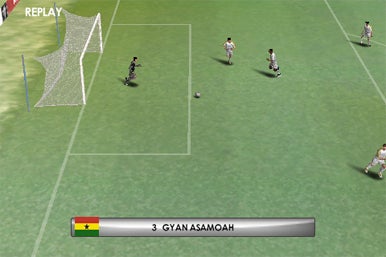 Konami's Pro Evolution Soccer 2010 nails each one of the prerequisites for being a great soccer game for the iPhone. Pro Evolution Soccer (PES) shows great polish and attention to detail, starting from its three (yes, you read correctly, three) control methods—good enough to satisfy every taste from the accelerometer fiends to the traditionalists who prefer to deal with on-screen buttons and pads.
PES also features a great UI where you can choose your favorite European teams (Konami has an official license from UEFA, so even the player names and statistics are accurate) and pick one of several game modes, from single matches to the full Europa or Champions leagues. As is customary in this type of app, game time is accelerated, with the options of making matches last three, five or ten minutes
Graphically, PES makes full use of the iPhone's 3-D capabilities. Player animation is smooth and well-rounded down to the most minute details (in fact, the players excel even at that most peculiar of moves that is characteristic of professional soccer players—the fake injury). Gameplay is equally excellent: the A.I. performs proportionally to the difficulty level that you choose without making it artificially impossible to score goals.
Where PES really shines, however, is in the sound department. The crowd reactions are nearly perfect and match every nuance of the game, including stolen balls and missed ref calls. In fact, the sound quality is extremely good even when listening through the iPhone's speakers, and the game features an excellent selection of songs that are played over the menus.
If you decide to play PES on an iPhone 3G or first-generation iPod touch, expect some slowdown and a bit of lag—the game is definitely built for newer iOS devices, where it performs very well. Even on older hardware, however, you will have no major problem controlling your favorite players to victory.
[Marco Tabini is a frequent contributor to Macworld.]