Just Mobile, maker of fine mobile stands and accessories for Apple products, has released the UpStand—a sleek aluminum stand for the iPad.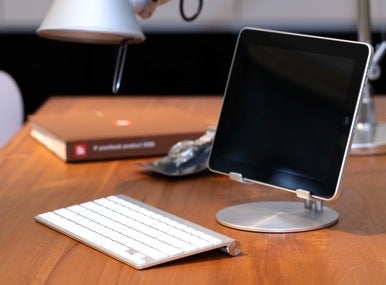 We've reviewed Just Mobile's Xtand Pro for MacBook and MacBook Pro, and, from what we can see, the company's iPad stand seems to match the Xtand's level of quality and style. The UpStand is precision engineered from aluminum and sports rubber-coated supporting grips that hold your iPad firmly in place—with or without a case—while keeping it free of scratches.
The UpStand positions your iPad at a comfortable height on your desk, making it ideal for working with a Bluetooth keyboard, watching movies, or using the iPad as a digital picture frame. Combined with the right apps, you could even turn your iPad into a functioning alarm clock, recipe book, or TV. Like Just Mobile's other stands, the UpStand's aluminum styling matches well with Apple's products, and the iPad looks right at home when placed on the stand.
The UpStand is available now for $50.