Editor's Note: The following article is reprinted from Computerworld UK.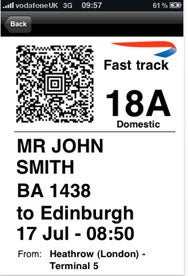 British Airways has launched an update to its iPhone app that allows Executive Club members to check-in with a boarding pass displayed on their smartphone screen.
The 2.0 version of the British Airways app was launched this month for iPhones, Blackberrys, and Android smartphones.
At present, only members of British Airways' free-to-join frequent flyer program, the Executive Club, can download mobile boarding passes on their phones. These can then be scanned at check-in to speed up the boarding process. Members can also access their Executive Club details using the app, see real-time flight information about their bookings, and make amendments to their bookings directly from their phones.
Meanwhile, passengers who are not members of the Executive Club will have access to a limited number of functions. This means that while they will not be able to check their own flight details, they can still look up timetables, access a dedicated travel news section, a Twitter news feed and a link to the ba.com mobile website.