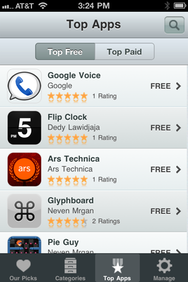 As Apple is fond of reminding those who complain about the App Store, native apps are only one prong of developing software for iOS devices—there's also Web apps. While they can't necessarily do everything that a native iPhone app can do, Web-based apps are surprisingly powerful—and now, with the introduction of OpenAppMkt, they've got a store of their own.
OpenAppMkt is a clearing house for both free and paid Web apps. You can easily install it on an iPhone by visiting the site and adding it to your Home screen (just going to the site in Safari on the iPhone will give you instructions); on the iPad, however, you'll see the same Web site as on your Mac. Once you have OpenAppMkt installed, you can browse by category, view a list of top apps or the market's own picks, and install and purchase apps.
Like OpenAppMkt itself, you install applications by adding them to your Home screen. You can view screenshots, write a review for an app, and share apps via Facebook, Twitter, or e-mail. In order to purchase an application, you'll need to sign up for a free account; the same goes for installing apps on the iPad. (At the time of this writing, I had not yet received the necessary verification e-mail to activate my account.)
Overall, OpenAppMkt is rather sparsely populated at this time. The Games category, for example, contains just nine applications, which obviously pales in comparison to the extensive catalog available at the App Store. But that's to be expected in these early days. The site is also offering free sign-ups for developers interested in distributing their Web apps via OpenAppMkt along with a more favorable proceeds split than Apple's: OpenAppMkt takes only 20 percent as opposed to Apple's 30 percent.
While the freedom from Apple's approval makes Web apps attractive to many developers, the challenge of the market is a steep one: many users don't look outside of the store that's already installed on their device, and there aren't a ton of Web apps that are offering compelling features that aren't also offered by native apps (the Google Voice Web app is one, though). It's not dissimilar from the challenges that face developers going the jailbreak route, even in this era of legality.
That said, the capabilities opened up by HTML5 make Web apps surprisingly capable, and if they are ever going to catch on, then a centralized distribution point is going to be a big help. Whether or not that's OpenAppMkt remains to be seen—it's worth remembering that Apple has a pretty extensive list of Web apps itself.