Whenever my wife and I are on a lengthy car trip, we certainly have plenty to discuss—the important issues of the day, our hopes and dreams, whose turn it is to do the dishes when we get home. But sometimes—OK, most times—the conversation turns to less weighty matters, and we find ourselves trying to recall which movies inexplicably lost out to the execrable The Greatest Show on Earth for Best Picture of 1952. Or who made up the crew of casino thieves in Ocean's Eleven—no, not the George Clooney version, the original one with Frank Sinatra. Or we wonder what became of Mia Sara in the two-plus decades since Ferris Bueller's Day Off ruled our nation's cineplexes.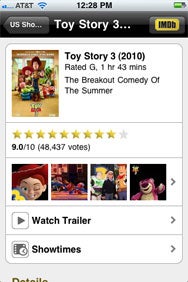 In the age before the iPhone came along—the Before Time—these conversations usually ended in frustration and stony silence as one or the both of us would be unable to come up with the definitive answers to whatever movie question happened to be tickling our brain. The iPhone's arrival improved things somewhat—at least the device gave us the ability to go online and get the answers we sought. The only problem: IMDb.com—the definitive source for who played what in which movie when—is kind of unpleasant to surf on a mobile browser. There's a lot of information to pinch and scroll your way around, and I inevitably end up tapping on a link I don't want to jump to as I fumble my way around the site in the mobile Safari browser.
I'm pretty sure the folks behind IMDb realized that their mobile experience simply wouldn't do. Late last year, the developed rolled out an app—IMDb Movies & TV—designed for the iPhone. When the iPad hit the scene this spring, IMDb updated its app so that it's now optimized for all of Apple's iOS devices. The current offering is a delight to use, regardless of whether you're looking up movie and TV data on your iPhone, iPod touch, or iPad. If you're the sort of person who wants easy access to information about movies and TV shows, this is a must-have addition to any mobile device.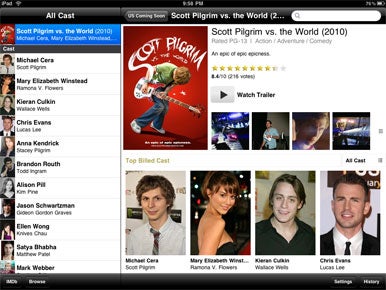 All the information you would look up on the IMDb Website—cast lists, actor credits, reviews from critics and other IMDb users, and more—is available via the mobile app. It's just presented in a format that's easier on the eyes… and on your scrolling finger. On the iPhone and iPod touch, IMDb's makers seem to understand that screen space is at a premium. Select a movie—a very visible search field makes it easy to type in search terms, and IMDb offers several other shortcuts to look up movies and TV shows—and the app will display information about the film stacked neatly in a very scrollable list. Instead of trying to cram an entire cast list onto a single screen, IMDb simply lists the top billed actors—you can tap on their names to see what other movies they've appeared in or you can tap a link to get a full cast list on another screen. It's a very sensible approach to managing the presentation of a lot of data.
The experience is even better on the iPad, which not only gives the app a larger screen to work with but also allows for liberal use of multiple panes and pop-up windows. Here, when you tap on the link to see the entire cast list of a movie, it appears as a separate, scrollable window overlaid on top of the main screen. The same thing goes on pages for individual actors when you opt to see their entire filmography—it, too, shows up as a separate window, giving you the information you want without forcing you to tap your way back where you started.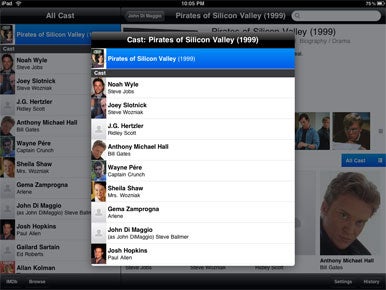 Nice touches like that exist throughout the IMDb app. IMDb lets you view trailers, but the video player is built right into the app; when you're done watching, you go right back to where you left off. An omnipresent IMDb button lets you jump right back to the app's Home page if you want quick access to the main menu of search categories. A lot of lesser apps would make you hunt and peck your way back to the start.
Not everything about IMDb is perfect. I found that the app's US Showtimes feature—which looks up when and where a movie is playing near you—didn't always produce reliable results when I searched by Current Location. I'm typing this sentence from my office in San Francisco, for example, and the results IMDb has turned up for nearby shows are all located on the other side of the San Francisco Bay. (I got much better results when I turned off the Current Location feature and searched by zip code instead.) The US TV Tonight feature, which depicts what's on the air tonight, limits you to just that evening's listings—you can't jump ahead several days like you can when looking up movie showtimes. And IMDb apparently doesn't believe in cable TV—its nightly listings just display the major broadcast networks (ABC, CBS, Fox, NBC, the CW, and PBS).
These are just minor complaints, though, that don't in any way detract from the main purpose of IMDb—having all sorts of information about movies and TV shows readily available when you need it. On that score, IMDb delivers. You'll never find yourself trying futilely to convince another person that Norman Fell did, in fact, appear in the original Ocean's Eleven ever again.
[Macworld.com executive editor Philip Michaels will never figure out how Greatest Show on Earth bested both High Noon and Singin' in the Rain for Best Picture.]