Extensis has announced the release of Suitcase Fusion 3, an upgrade of the company's professional font management program.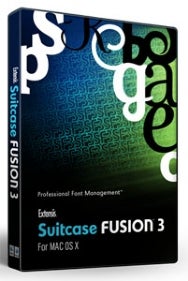 The new version features an updated interface, font auto-activation plug-ins for Adobe InDesign CS5, Photoshop CS4 and CS5, and Illustrator CS5, and application sets that activate selected fonts when a particular program is launched.
Also new to Suitcase Fusion 3 are Font Snapshots, a feature which lets users create font previews in PNG format to view and share with clients; and Web Preview, which lets designers see how a font will look within a Web design without having to write the code. QuickMatch, Suitcase Fusion 3's font comparison technology, assists in finding similar fonts in your library. Version 3 also offers a font cache cleaner that can clear out the font caches of Adobe applications, QuarkXPress, Microsoft Office, and Mac OS X System fonts. The app is now localized in French, German, Japanese, Italian, Spanish, Brazilian, and Portuguese.
All versions of Suitcase Fusion 3 include a free copy of FontDoctor 8, the latest version of the utility, which provides additional tools for font corruption detection, repair, and file organization.
WebINK
A significant new addition to Suitcase Fusion 3 is integration with its new cloud-based font rental service, WebINK.
WebINK lets designers select, manage, and use custom fonts for their Websites without concern for supported font formats or font licensing issues. WebINK fonts can be managed either online or via the desktop through Suitcase Fusion 3.
It works like this: Designers choose their typeface from the Extensis service, which then generates the necessary CSS coding to use with that font on their site. Site visitors can then see the chosen fonts, in the correct format for their browser, from a secure Extensis server.
Up until now, Web designers have had extremely limited typographic choices on the Web. Typeface choices were confined to the few standard fonts installed on a reader's machine, and if you wanted custom fonts, you had to render them as static images or employ JavaScript coding—none of which is optimal for text display. WebINK makes professional-quality typography accessible for most browsers without JavaScript or other programming hacks, the company says.
"Enabling WebINK in Suitcase Fusion 3 is a logical step toward complete font control across print and Web," said Thomas Phinney, senior product manager for font solutions at Extensis. "The extension of desktop font management to the Web closes the loop on many of the cross-media challenges—and creative sacrifices—that modern designers face."
To launch WebINK, Extensis has formed partnerships with well-known type foundries whose high-quality fonts will be available to rent. New partner foundries and fonts are being added every week, according to the company. "This includes both industry-standard fonts previously unavailable for use on the Web, as well as fresh faces from today's top designers," Phinney said. WebINK is available in English, French, and German at launch.
Suitcase Fusion 3 is $100, and upgrades from the previous version are $50. Users who register Suitcase Fusion 3 by December 31, 2010 will receive one year of the WebINK service for free. Details about the free WebINK promotion are available on the company's Website. The desktop application runs on both PowerPC and Intel systems and requires Mac OS X 10.5.8 or higher. WebINK runs on Safari 3.1 or higher, Firefox 3.5 or higher, Chrome 4 or higher, and Internet Explorer 4 or higher.