Sick of being an office drone? Why not spend your free time on a social networking game that attempts to make the office life exciting and fun? Developed by Astro Ape Studios, Office Heroes is a free-to-play, Farmville-esque…office game. That's right, an office game.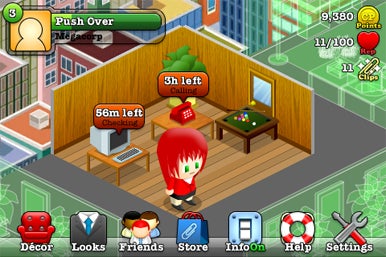 Once you get past the sign-in screen, you find your very own avatar in your very own (somewhat empty) office. The ultimate goal of the game is to have a really awesome office (and be really rich). You can achieve both goals by earning career points (CP), which you do by completing tasks in real time. Various pieces of office equipment, including computers, telephones, fax machines, and printers, can be used to complete CP-earning tasks.
As each task is completed, you can click on the machine and receive your CP. Beware though—if you take too long to collect your reward, you'll not only forfeit your reward, but you'll lose "reputation" points. The more reputation points you have, the more career points you will earn when you are away. You can earn those reputation points back by visiting friends (Facebook friends who also play Office Heroes, of course) and helping them with tasks.
Earned CP not only helps you level up (there are 50 levels in total), it allows you to buy nifty furnishings for your office (such as hot tubs, pool tables, and cool floor tiles). Said nifty furnishings do little except make your office look cool—and, of course, you can then share your cool-looking office with friends via Facebook. You can also buy new looks for your avatar. There's also another type of currency, paperclips, which can be bought with real money or earned, albeit very slowly. Paperclips can be redeemed for more expensive items or sold for CP.
The graphics in Office Heroes are great—there's a lot of detail, and the avatars are very cute. The only real issue I had with the game was the lack of push notifications—some tasks take as much as 24 hours to complete, and it's easy to forget about them. Due to office setting, at the end of the day, it won't be the most stimulating game you'll ever see. But hey, if you're already a Farmville fan, what's another social networking game to take up your time?
[Sarah Jacobsson is a frequent contributor to Macworld.]