Fans of UFC—that's Ultimate Fighting Championship—are some of the most passionate of any sport. They know the UFC's history, its fighters, and the latest dream title match-ups. Now UFC fans can take all that with them with the official UFC app, a $1 iPhone and iPod touch offering from MobiTV.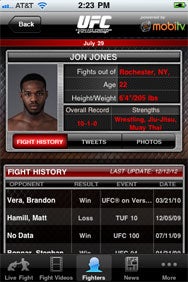 The UFC app emphasizes streaming video as its centerpiece feature—not surprising given MobiTV's involvement. (MobiTV makes its own streaming video app and has worked with sports entities such as the NBA and CBS Sports to supply video-centric offerings for the iPhone.) Fight fans can purchase live pay-per-view matches and archived fights right from the app. Live fights cost $45—the same price that your cable company charges—and archived fights are $6 each.
The UFC app includes profiles on each fighter including fight histories, win-loss records, photos, and tweets from the fighter (if he's active on Twitter, that is). Nearly all UFC fighters have their own profiles, and only a few obscure fighters are missing here.
The app includes a news section with headlines, features, and short video clips on fighters and upcoming fights. Another section includes basic information on UFC history and pictures of the Octagon Girls, although these sections will underwhelm you.
One surprising omission is any mention of the free "UFC on Versus 2" event on August 1. The cable channel Versus plans to feature several up-and-coming fighters in a live, free event this Sunday—the second event of its kind this year. Since UFC events are usually pay-per-view, you might expect that the UFC would use this event to showcase and promote the sport to new fans, yet the iPhone app made no mention of the fight in the app's main section when I tested it this week.
The biggest downside to the UFC app is a lack of content. There's just not much to do here. You can read headlines, watch clips, and look up fighters. That's about it, unless you want to buy a live fight, which streams over Wi-Fi and 3G. I'm not sure why you would do that unless you were nowhere near a TV on fight night. As nice as the iPhone's screen says, it's really no match for your television set. True, you could use an iPad instead, but this app isn't optimized for that device; you'd have to watch in 2x mode.
Diehard UFC fans may be interested in this official iPhone app, but newcomers and more casual fans won't find much to hold their interest.
[Macworld contributor Brendan Wilhide covers the sports industry and social media on Sportsin140.com.]