Ace Tennis 2010 is an interesting cross between a simulator and an arcade tennis game that should fit well with the iPhone's casual-gamer crowd. Instead of attempting to build the perfect imitation of the game of tennis, developer Eurocenter seems to have chosen to focus on a simplified gaming experience, delivering short, enjoyable games that can be mastered without spending too much time on training.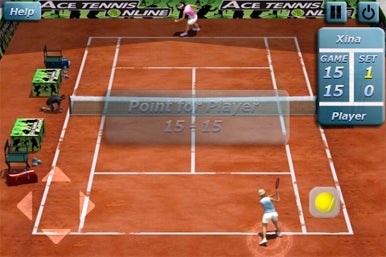 The game allows you to control your strokes in one of two ways: by using your device's accelerator to direct the direction of the ball, or by sliding your finger across an on-screen controller. The latter is, by far, the best method, given that keeping an eye on the court (which doesn't rotate with the device) while tilting the screen is exceedingly difficult.
Gameplay is extremely stylized: sets only last one game, the players never dive, and hitting the net is seemingly impossible. The developers seem to have erred a bit too much on the ease of play side, thus causing the game to be lacking in the subtlety department: despite having names obviously "inspired" by various famous professionals, the computer-driven players show no variation in their behavior or style of play. As a result, once you have learned to control your player well, winning game after game becomes primarily a mechanical, smash-and-grab job. As a curious side note, the game refers to clay courts as "sand."
The game's graphics are satisfactory, but the lack of 3-D support translates into the absence of features like instant replay and multiple viewing angles—again, not a big loss considering that Ace Tennis is aimed at casual players. Sound, on the other hand, lacks oomph: there are no referees or announcers, and the crowd reactions are a both erratic and unenthusiastic, while the music is a little too repetitive and gets old a little too fast.
As its name implies, Ace Tennis features some interesting multiplayer capabilities; in addition to playing over a local Wi-Fi or Bluetooth (a mode that suffers from sometimes unacceptable lag), you can also play against a friend over the Internet, provided that you know that person's nickname and he or she is online.
All things considered, Ace Tennis 2010 is a good choice for casual players looking for a fun, easy tennis game to occupy some downtime. More serious tennis lovers, on the other hand, are likely to quickly master its dynamics and be unsatisfied by the simple gameplay and uniform opponent abilities.
[Marco Tabini is a contributor to Macworld.]