At a Glance
Expert's Rating
Pros
Free.
Lots of excellent custom themes to select from.
Supports high-resolution photos and inline slide shows.
Active social community.
Lots of ways to communicate with your blog.
Cons
Some Tumblr custom templates require a purchase.
Tumblr's post editor may seem somewhat limited if you write a lot or want a lot of formatting options.
Our Verdict
Tumblr is a newer and easier-to-use alternative to well-established online blogging services like WordPress ( ), TypePad ( ) , and Blogger. And yet Tumblr manages to rival the big guys in its feature set.
Post haste
Tumblr does the same things as the competition, but it has its own unique approach to the writing of new posts. If you start a post inside your Tumblr account or by using the Tumblr Javascript blogging bookmark, you are asked to indicate what type of post you're creating. There are seven types: text, photo, quote, link, chat, audio, and video. These types of posts aren't inherently different; you could include a photo in a text post, for example. The buttons simply let you get a running start on the most common types of posts. If you post using another method— by email and AOL Instant Messenger, for example—you don't have to categorize your post. If you phone in a post; it will appear as an audio file.
It is worth noting that Tumblr clearly loves Macs. Mac users can post using a radically simple OS X Dashboard widget and iPhone users can use Tumblr's iPhone app. (There's also an app for Blackberry users but so far no app for Android.) Tumblr also supports a growing number of third-party apps, including an app that backs up your blog to your Mac, an app that optimizes your blog for viewing on an iPhone, and a couple of others that allow you to work with Tumblr on an iPad.
Tumblr's streamlined editor lacks some of the editing tools found in other blogging services, such as buttons for paragraph indent and "outdent" and a full-screen editing option, and the relatively small text entry field doesn't encourage you to write dissertations. So in general, Tumblr seems best suited to short, quick posts. But Tumblr does not put a limit on the number of words in a post and you can in fact write quite lengthy posts if you wish to.
Tumblr is well integrated with other blogging, microblogging, and social networking services like Twitter and Facebook, so your Tumblr posts can be noted automatically on the other services where friends and adoring fans may be following you. Use the integrated Google Feedburner feature to create and manage your RSS feed. Tumblr also supports Google Analytics so you can see how well you're doing on the Web. It should be noted that most of these are not unique advantages of Tumblr; many if not most other blogging services provide the same or similar features. I mention them here because, at first glance, you might think that Tumblr could not possible compete with the big services in all of these respects, and yet it does.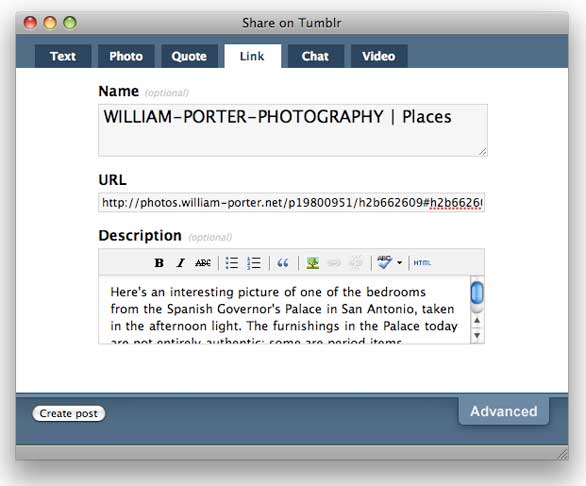 Looking good
I was impressed by Tumblr's extensive library of attractive design templates, called themes. There are a huge number of great themes available for free, but there are also custom themes that can be purchased right inside Tumblr. Prices for custom themes are reasonable, generally in the range of $9 to $19, with a few costing as much as $49.
Once you've purchased a theme from their Theme Garden, it's yours to keep forever. Most themes let you customize a few things such as background color and some themes give you a few more options, but generally it's not as easy on Tumblr to modify your theme or the structure of your page as it is, say, on Blogger. If you are an ace at HTML and CSS, you can roll your own theme, and Tumblr even helps you share your theme with its millions of users. I personally found quite a few themes that I really liked and I never felt the need to customize my blog's look beyond the choice of a theme.
As with other blogging services, Tumblr lets you create additional pages for special content (say, your autobiography). Of course, you can map your blog to your personal domain.
As a photographer, I really like the fact that Tumblr provides easy support for high-resolution photos. I can show high-res photos in Blogger or TypePad, but it's a little more work. And Tumblr has a cool way of displaying galleries of photos right in the body of posts, so users are not forced to navigate away to a separate gallery page. One small downside: If you embed a gallery in a post, it's not as easy for users to comment on a particular photo as it is, say, in a Facebook photo gallery where each photo can be viewed and commented on individually.
Talk to me. Or not.
At times, I began to feel that Tumblr is what Facebook ought to be—easy to use, easy to customize, feature-rich, without a limit on the number of words in posts, and with a far less restrictive limit on the size of photos. And while you can be a private blogger on Tumblr if you want, Tumblr encourages its users to get social. Group blogging is possible. There's a way to add an "Ask me anything" link to your pages to encourage input from your readers. If you tag your posts, they can be found more easily in the sea of posts on similar topics by other Tumblr users.
And if you want to be all cloak and dagger, you can password-protect your blog and share the URL and password only with friends who have the appropriate security clearance.
Macworld's buying advice
Even though I feel that it's aimed at a hipper and less long-winded blogger than I am, I liked Tumblr a lot. And while I generally think of online services as being platform-agnostic, Tumblr does offer particularly good external support for users of Mac OS X, the iPhone and the iPad. If you are the kind of blogger who plans to post a lot, especially if you'll be doing it from deep within your Apple lifestyle, be sure to check out Tumblr.
[ William Porter is a database applications developer and event photographer in Dallas.]