Up until just a couple of years ago, free yellow pages directories would land in our driveway on a regular basis, each produced by a different publisher. We stopped holding onto them long ago; we knew we could find just about any local business we wanted via Google or a local Web directory. As soon as we tossed one of the thick books into the recycling bin, it seemed, another would arrive.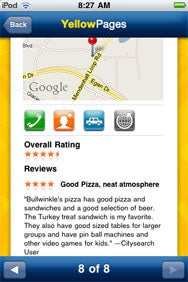 The directories rarely arrive these days, and they're not missed. And while Google satisfies most local business searches, it's not perfect, and not designed as a directory.
Fortunately, Yellow Pages, a free app from Avantar that runs almost identically on the iPhone and iPad, is a terrific way to find and get contact information for local businesses in the U.S., Canada, and many countries in Western Europe. By default, Yellow Pages searches your current location, but you can type in any city name to search elsewhere. You can perform searches using a limited list of provided categories ("Gas Station," "Hardware Store," "Grocery Store," and so on), or by typing in a keyword.
The app retrieves your results and lists them in order from those closest to the location to those farthest away; the list includes business names, addresses, phone numbers, and, when available, a Citysearch star rating. Tapping on a business leads to a new screen with the business's location displayed on a Google Map. Tapping on icons near the bottom of the screen provide the phone number, an option to add the business and its information to your contacts, an option to get driving directions via Google Maps (this opens the iPhone's or iPad's Map app), and a link to the business's Web page, if it has one, or its Citysearch page. These pages open within the Yellow Pages app. You can mark business as favorites, send business information via e-mail, or post business information to Facebook via a pop-up window within the app.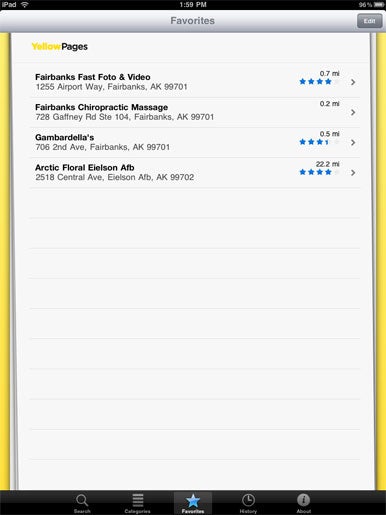 The only significant difference between the iPad and iPhone versions of Yellow Pages is that the iPhone shows Citysearch review comments on the same screen as the map and other business information; on the iPad, to read comments, you have to visit the Citysearch page.
Avantar has created a powerful app with a good interface. It could be improved by enabling users to write notes about businesses and keep custom lists, but the fact that these are missing doesn't diminish the fact that Yellow Pages is an excellent, useful tool.
[Jeff Merron is a freelance writer and editor living in North Carolina.]