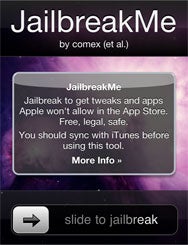 A brand new solution promises to free your iOS device from Apple's copy-protection mechanism in the simplest possible way: visiting a Web page. The new jailbreak method comes on the heels of a decision from the Library of Congress that has officially granted jailbreaking an exemption from the provisions of the Digital Millennium Copyright Act.
Called JailbreakMe, the new method is entirely browser-based: all you need to do is visit its Website directly from the iOS device you want to jailbreak and follow the prompts. The Web-based app downloads and executes the jailbreak, then installs the Cydia app packager, which allows you to access to a wide variety of software that is entirely legal, but unsanctioned by Apple for one reason or another.
Like most jailbreaks before it, JailbreakMe takes advantage of a vulnerability in Apple software—MobileSafari in this case—and works with practically every iOS device that runs version 3.2 or higher, including the iPad and the iPhone 4.
JailbreakMe's strength is the simplicity and ease of use that comes with being browser-based; it eliminates the complex procedures and arcane incantations that are sometimes needed to trick an iOS device into a state where jailbreaking is possible. However, it's not without its problems— according to Engadget, it's entirely possible to brick your phone, and the solution does not seem to work on iPads running iOS 3.2.1.
If you're thinking of giving JailbreakMe a try, a final word of warning: jailbreaking may now be legal, but that doesn't mean that it's safe. Despite all its shortcomings, there is something to be said for the gatekeeping role that Apple plays within the official iOS app catalogue. Jailbreaking your device could expose you to a number of different security problems and may void your phone's warranty.
Although a bricked phone can usually be resuscitated by way of a system restore from iTunes, there is always the possibility that attempt to circumvent Apple's copy protection measures may leave you with an expensive, if beautiful, paperweight.