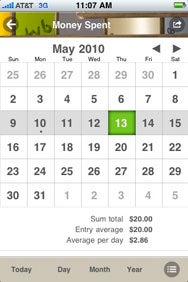 CVZ Productions's Daily Tracker is a multi-purpose iPhone app for logging everything from good ideas and tasks, to workout progress, to RSS feeds. A major version 5.0 upgrade has brought a healthy does of support for iPhone 4, iOS 4, and Apple's VoiceOver technology.
The developer pitches Daily Tracker as a "personal organizer." Along with common items like to-dos and notes, Daily Tracker is also designed to help you track workouts, news, your budget, projects, medication, and more.
The new 5.0 update has gained interface improvements and high-res graphics for the iPhone 4's Retina Display, as well as multitasking support for iOS 4. It also now works with VoiceOver, Apple's accessibility technology for users with impaired vision.
Daily Tracker 5.0 is available available now for $10 in the App Store. A free Lite version lets you try out all of the app's features, though it limits you to adding seven entries in each category that you track. Both apps require iOS 3.1.3 or later.