Mumble Jumble, a word search app from developer Jonathan Pulham, combines elements of Scrabble, Tetris, and grade school word puzzles. The result is a fun little app that offers more than the standard word search game, although its $3 price tag might be a bit steep.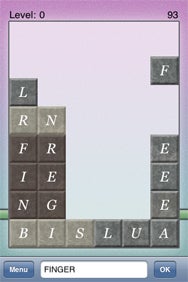 Upon launching the app, a "Tap the screen" prompt appears. This will open up a game on the app's default settings, but a quick tap on the "Menu" button will open up a whole host of options to customize the game. The menu also has a section with instructions for the game, which is helpful because the gameplay is not particularly intuitive.
The basic concept of Mumble Jumble is to tap letter blocks in succession to create words. Unlike the average word search game, however, Mumble Jumble allows more than just diagonal and straight-across words. Under the "Any Connected" control setting the squares surrounding the entire word illuminate, vastly increasing the letters you can work with.
Three game modes create a little more dimension. The "Quick Column" mode is pretty straightforward, with a screen full of letters that you try to tap away. "Raining C's and D's" starts with two rows of letters, then continuously drops more letters on you as you try to tap them away, à la Tetris. Finally, "Tug of War" combines the two, with a screen full of letters that replenish themselves as you tap them away.
You can adjust the difficulty with four choices of time limit, or speed. The unique thing about Mumble Jumble is just how customizable everything is, from the play settings to the looks and sounds. This is sort of a mixed blessing+. There are six different skins for the blocks, from wood to metal to concrete, in addition to 58 different fonts for the lettering. But the graphics are never outstanding or the new skins particularly memorable.
Beyond that, there are RGBA sliders – which let you adjust the red, green, and blue intensities – for the font, tile, highlight, and "selected tile" colors. This is a nice thought, but who wants to spend half an hour adjusting colors for a word search app? There's no preview option for the colors, so you have to set the sliders, then start a game to see what hue you've created. It's incredibly tedious, to say the least.
The sound options are a little less fraught. You can turn the clicking and tapping noises on and off, or listen to music from your iPod while you play. Multiplayer options are available through Bluetooth, allowing you to start a game or join an established one, though the users must be nearby. And finally, separate scoreboards for every game mode and difficulty let you see your points earned and the longest words you've come up with.
Despite its myriad customization options, Mumble Jumble is a simple game with even simpler graphics. And though it's a great way to kill a few minutes here and there, I'm not sure that the extraneous bells and whistles are worth the $3 price tag.
[Meghann Myers is a frequent contributor to Macworld.]